JICA-RI organized its third international workshop on the research project entitled "Land and Property Problems in Post-Conflict State-Building and Economic Development" on March 8 and 9. As the project plans to publish an English book based on the research findings by this summer, the main objective of this meeting was to discuss the draft of research outcomes, mainly on country case studies.
The workshop brought together the project members from Japan and five countries across various regions. They gave presentations on the results of the analyses for respective case study of eight countries including South Sudan, Rwanda, Timor-Leste, and Bosnia-Herzegovina. The participants exchanged their views on the presentations, with Professor Daniel Fitzpatrick of the Australian National University, who attended as a guest expert.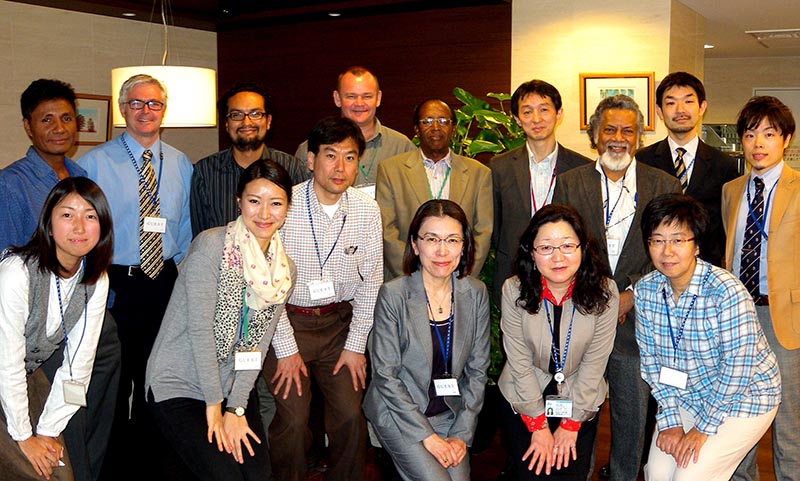 Project members
The project finds that numerous factors—a great number of refugees and displaced persons, loss of documents such as land certificates, poor legal systems, slow development of public institutions—escalate the land and property disputes in conflict-affected states. The project, therefore, attempts to clarify the challenges to development aid and peace-building by examining the distinctive features of the problems as well as the policy measures in each country. The workshop also identified similarities and differences on historical background, exclusion of the socially vulnerable, conflicts among social groups, and changes in the political system and power relationships among the countries of case studies.
With the findings of the discussion during the workshop, the project team will closely review their research and deepen the discussion on comparison of each case study and policy implications for the preparation of a book from the international publisher.
| | |
| --- | --- |
| Day | March 08, 2013(Fri) - March 09, 2013(Sat) |
| Place | JICA Ichigaya Building |