Government organizations, NGOs and private sector firms in the field of international cooperation and development assistance gathered together at Global Festa 2010, one of Japan's largest events in international cooperation, organized by the Global Festa JAPAN 2010 executive committee and co-sponsored by the Japan Ministry of Foreign Affairs, JICA and the Japan NGO Center for International Cooperation. It was held in Hibiya Park in Tokyo on October 2 and 3. Crowds of local and international attendees visited each exhibition booth which provided information on the Millennium Development Goals (MDGs) – the main theme of this year's festival – or showcased material on individual businesses.

On the first day of the festival, JICA-RI hosted an event to inform the public of its daily research activities. Entitled "Academia, Practitioners & Community: Forming Partnerships," the event featured four JICA-RI researchers: Research Fellows Mari Katayanagi and Jean-Claude Maswana, and Research Associates Ryutaro Murotani and Kohei Yoshida. Each researcher spoke on a topic of his or her expertise—from the prevention of conflicts and achievement of the MDGs to the status of Islam in Southeast Asia—and explained plainly the contents and significance of the project that each researcher is engaged in.

The event, aimed at those interested in international cooperation, attracted a wide range of participants who had a chance to ask the researchers questions. "How have research findings been applied to fieldwork activities of international cooperation?" was one of many questions raised. The researchers responded to each question in turn.

This event was a good opportunity to introduce to many people about the roles of research in international cooperation and development assistance, and what impact research has on the achievement of the MDGs.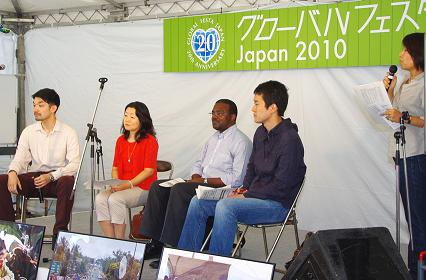 MOVIE COMMENTAR
Jean-Claude Maswana, JICA-RI Research Fellow, Mari Katayanagi, JICA-RI Research Fellow
| | |
| --- | --- |
| Day | October 02, 2010(Sat) - October 03, 2010(Sun) |
| Place | Hibiya Park in Tokyo |
| Organizer | Global Festa JAPAN 2010 executive committee |