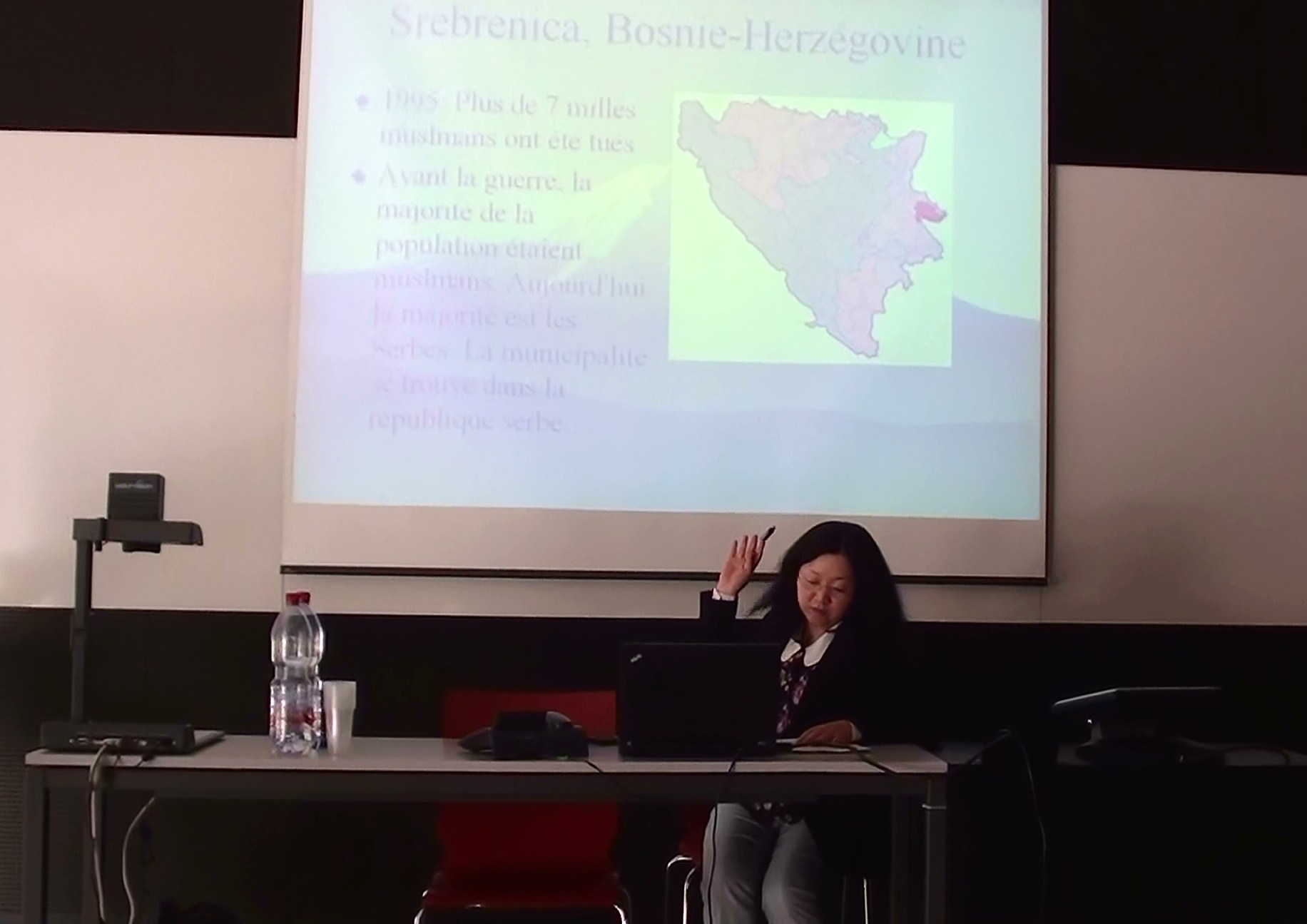 Mari Katayanagi presenting her research
From June 8 to 10, 2011,
JICA
-RI's research fellow Mari Katayanagi joined the members of Association Tires-Monde – a French academic circle of international development and aid researchers – at their conference in Fribourg, Switzerland. The theme of the event was: The Construction of Civil Society and Development: Spanning Innovation, Subsidiary and Political Action, and she presented her paper on
JICA
's successful technical assistance projects in Bosnia and Herzegovina (BiH).
Since 2006, JICA has operated two projects in a series to help build confidence and trust among multiethnic communities in the suburbs of Srebrenica, a small valley town located in the east of the country. During the Bosnian War, this municipality became the site of the heinous war crimes, where over 7,000 Bosniac (Muslim resident) men were massacred in 1995. After more than 15 years from the end of the war, scars remain fresh till this day, and they suffer from the emblematic image of lingering ethnic tension between the Bosniacs and the Serbs.
In response to the BiH Government's request, JICA has dispatched an agricultural expert to live near the town and promoted reconciliation and re-building of their society through activities like: fruit planting, productions of herb and vegetables, and apiculture. Now, residents of both ethnic groups cooperate in the daily work, while organizations and associations to jointly manage the productions and sales of the produce are sprouting throughout the region. Consequently, their income has increased as well as visible changes in their interactions (e.g. regular communication and information exchanges between the two groups have been observed). Also, the municipality is committed to facilitate the projects more and more.
News about the positive effect by the JICA's Srebrenica projects reached Katayanagi while she engaged in peace-building work in the country for over eight years from 2001, but she has re-discovered their accomplishments by closely analyzing them with a rights-based approach this time. Rights-based approach is a development strategy to address situations from a spectrum of rights-holders (citizens) - duty-bearers (municipalities, governments) relationship, and to determine what's needed in aid. Katayanagi says, "In a society like the one in BiH [strongly family-based, people do not easily bond with others], it is very difficult to urge locals to get involved so I was impressed," mentioning it is exceptional that the projects have been characterized for their participatory feature, compared to a frequently-observed malady of aid programs where beneficiaries become overly dependent.
She points out a key to the success was that, from the beginning, JICA clearly set the priority of participants to returnees, single-mother families, and families with disabled veterans, of both Bosniac and Serb ethnicities alike, while other donors prioritized the former alone – the victimized side of the genocide – in the past, leading to a sentiment of deep inequality among the Serb residents. Katayanagi explains: "JICA has been implementing the projects where both ethnic groups are regaining trust to each other and working side by side. This agrees with principles of rights-based approach such as equal right to development and prohibition of discrimination, and it resulted in aiming to secure rights regardless of ethnicity." She further elaborates: "The politics in BiH is still ethnicity-based, but these communities are breaking free through agricultural activities. It's symbolic that the civil society is being reconstructed in a place like Srebrenica," though concluding more time and resources are required for overall social transformation to be realized.
JICA-RI has been active in expanding their network further and disseminating research results through various activities such as sending researchers to participate in conferences overseas. This was, in fact, the first time Katayanagi attended a conference of the Francophone academia. On this new experience, she says, "It was meaningful to learn the up-to-date trends in their development-related research." The ATM welcomed her, the only presenter based in Asia among mostly European crowd, and offered JICA to take part again.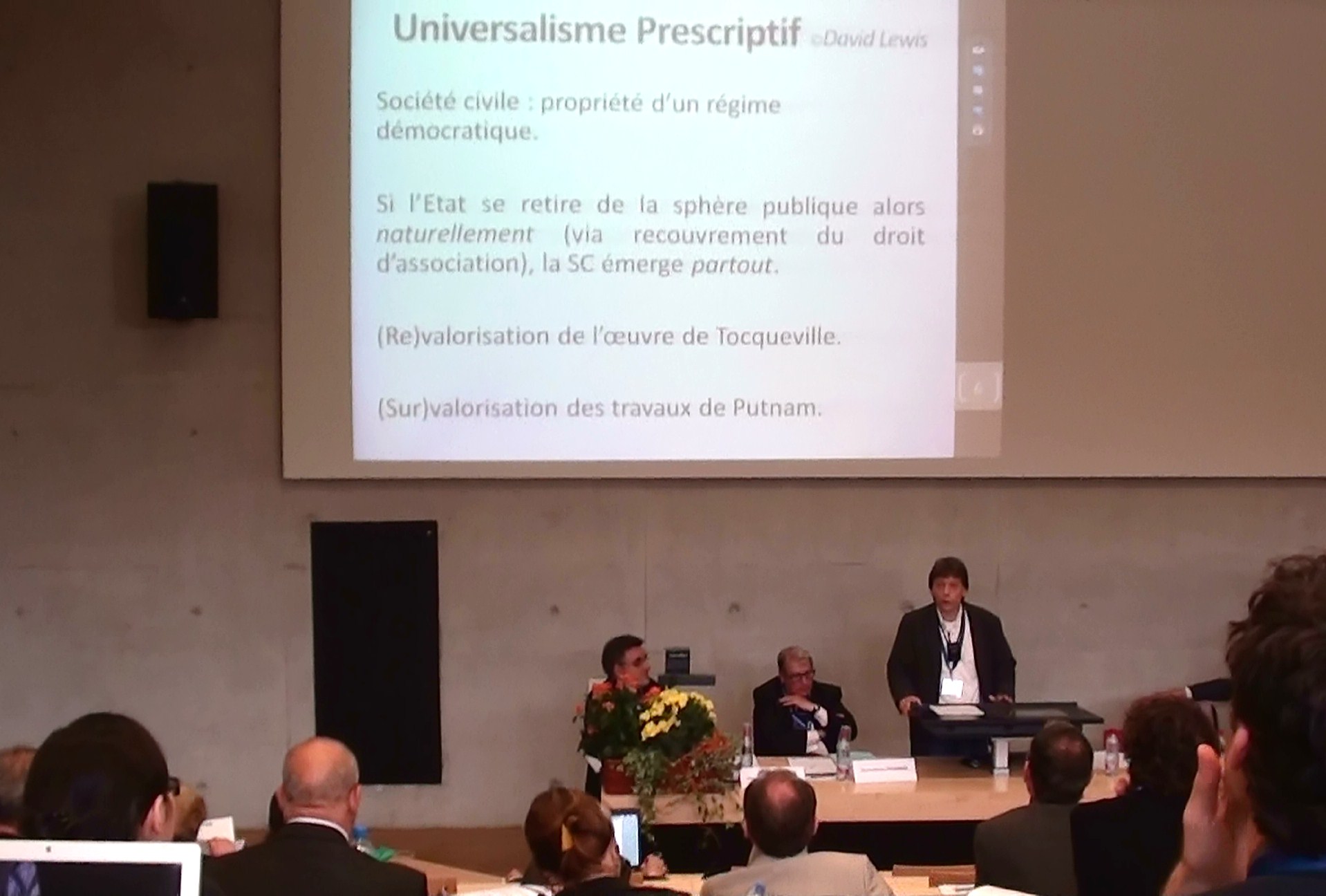 Related Research Area: Peace and Development
MOVIE COMMENTARY
Dr. Mari Katayanagi
Research Fellow, JICA Research Institute
| | |
| --- | --- |
| Day | June 08, 2011(Wed) - June 10, 2011(Fri) |
| Place | Fribourg, Switzerland |
| Organizer | Association Tires-Monde |
| Language | French |