Since 2011, JICA-RI has engaged in a collaborative research project with the Brookings Institution on the topic of "scaling-up." The new book, "Getting to Scale: How to Bring Development Solutions to Millions of Poor People," which was published this April, is a compilation of the research findings from the project. To mark the publication, the two organizations co-hosted a seminar at the Brookings Institution's headquarters in Washington, D.C. on June 28.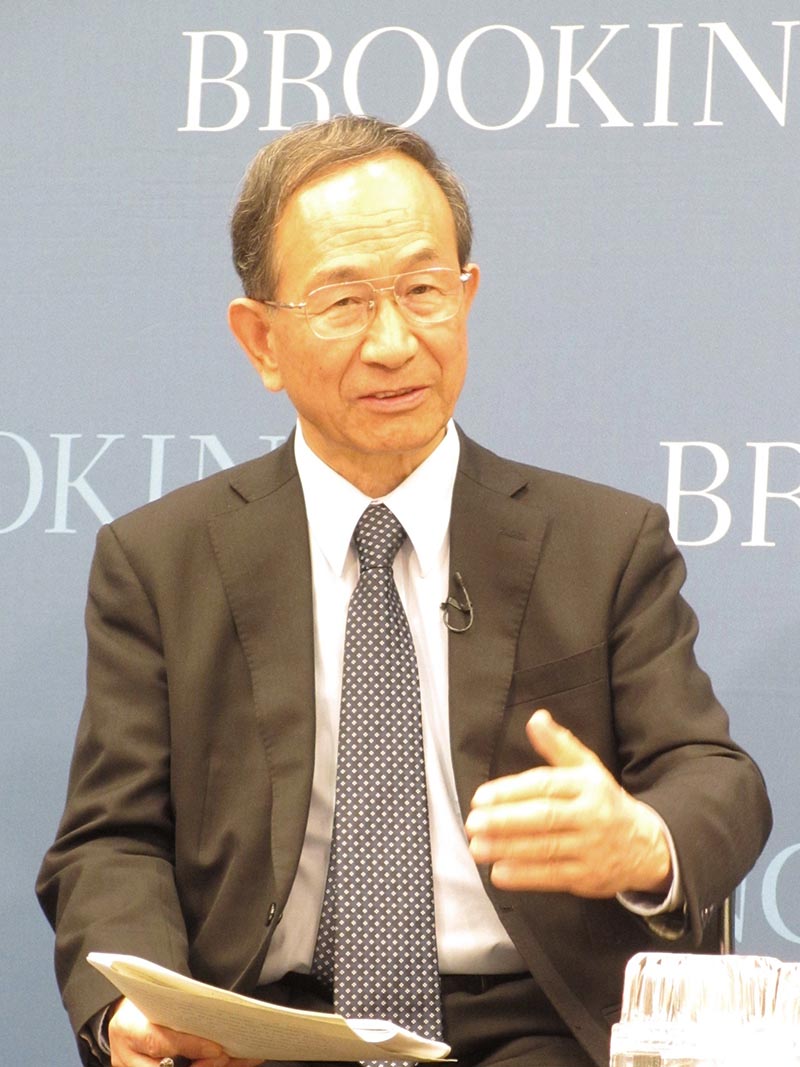 Hosono SRA
JICA-RI Senior Research Advisor (SRA) Akio Hosono, one of the authors and co-editors of the book, took part in a panel discussion as a panelist, along with three others including Brookings Senior Fellow Homi Kharas, who is also an editor and author.
First, Dr. Kharas, having witnessed a limited number of successful cases in scaling-up despite its importance, propounded that it is essential for specialists in different domains to strive to realize this aspiration.
Hosono SRA, during the panel discussion, explained that the "New JICA" that was created under one roof in 2008 led to the further promotion of scaling-up initiatives. New JICA, applying strategically three aid schemes—grants, technical cooperation and concessional loans—aimed to achieve synergies of the merger: scale-up, spread-out, and speed-up. Moreover, he took up a good example of 'scale-up' from the book: "Scaling Up in Education: School for All Initiatives in West Africa," along with analyzing JICA's pioneering efforts in scaling-up South-South cooperation through triangular cooperation.
Subsequently, Hosono SRA exchanged opinions with the audience over the partnership model between the public and the private sector, or 'hybrid model,' which is one of the focuses of the joint research. He explained that, as an example of a hybrid model initiative in Japan, JICA established a new office, the Private Sector Partnership and Finance Department, referring to its indirect development aid to developing countries. He touched on, as a case of the hybrid model of scaling-up, the production and dissemination of mosquito nets (Olyset Net) in countries, mainly African countries where malaria is prevalent. This project involved: a Japanese private company and a Tanzanian company for innovation and local production; the Japan Bank for International Cooperation (JBIC) in charge of finance to scale-up production; international organizations such as the World Health Organization (WHO) and the United Nations Children's Fund (UNICEF); and private companies overseas, including ExxonMobil. Their strategic collaboration enabled the swift, widespread dissemination of highly-effective mosquito nets.
At the end of the seminar, the future prospects for enhancing scaling-up were discussed. Hosono SPA introduced that JICA-RI has launched the series of good practice seminars to promote intra-organizational learning on scaling-up, taking the opportunity of the publication of the book.
At present, aid agencies, charitable foundations, and private aid organizations such as international NGOs located in Washington, D.C., one of the global centers for international development, are expected to extend more effective development efforts. Scaling-up development outcomes, therefore, has attracted much attention. The seminar, in this sense, was a timely event.
| | |
| --- | --- |
| Day | June 28, 2013(Fri) |
| Place | Washington, D.C., U.S. |