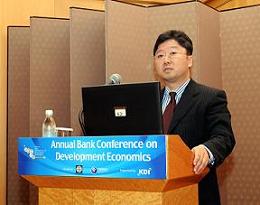 Prof. Sawada presents on Natural Shocks
From June 22-24, the World Bank's Annual Bank Conference on Development Economics (ABCDE) was held in Seoul, Korea. "Lessons from East Asia and the Global Financial Crisis" was the main theme of this year's event. The conference, co-sponsored by the World Bank and the Korean government, was attended by JICA-RI Director Keiichi Tsunekawa, Yasuo Fujita (Senior Research Fellow), Megumi Muto (Research Fellow), and Yasuyuki Sawada (Visiting Research Fellow) among other experts and policy-makers. JICA members presented their study results in two sessions.
In the session chaired by JICA-RI Director Keiichi Tsunekawa, Yasuyuki Sawada (JICA-RI Visiting Research Fellow and Associate Professor of The University of Tokyo) presented an overview paper on "Natural Shocks, Household/Firm Behavior, and Policy Responses." Synthesizing the results of his past several studies, he discussed a variety of household behaviors when subjected to "external shocks," including earthquakes, tsunamis, and disease outbreaks. Using case studies of "natural experiments," he identified the causal relations between shocks and some types of household choices. Lively discussion followed on the policy lessons learned from such "natural experiments," such as the effectiveness of policies before (e.g. insurance) and/or after (e.g. cash transfers) the shocks.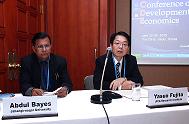 Abdul Bayes and Yasuo Fujita
Professor Abdul Bayes of Jahangirnagar University in Bangladesh opened the session chaired by JICA-RI Senior Research Fellow Yasuo Fujita, with a speech citing his pioneering study on the effects of mobile technology on poverty reduction in Bangladesh. JICA-RI Research Fellow Megumi Muto presented her paper on how mobile technology has enabled greater market participation for matooke (a type of cooking banana and staple crop of the region) farmers in Uganda. She cited how price information sharing among matooke farmers was facilitated through cellular phones, thus allowing the purchase price of matooke to rise. She concluded that empowering farmers with more information contributes to poverty reduction. Professor Bayes, referring to the significance of the evidence presented in the two papers, invited further investigation on the broader effects of mobile technology particularly on women and consumers. Upon his return to Bangladesh, Professor Bayes published an article citing the significance of Muto's work. (see related link below)
This year's ABCDE conference covered such topics as the importance of free trade in recovering from the Global Financial Crisis, expectations for demand increase in Asia, and restructuring of the financial regulatory framework, among others. In light of Asia's experience in growth and development, the conference also touched upon issues like industrial policy, social capital, financial crisis management, and new international economic systems.
■Related Websites
Related article featuring JICA's session
■ Agenda
June 22
09:00 – 09:40

OPENING SESSION
Opening Remarks: Jeung Hyun Yoon, Minister of Strategy and Finance,
Korea
Welcoming Remarks: Justin Lin, Senior Vice President and Chief
Economist, The World Bank

09:40 – 10:30

KEYNOTE ADDRESS 1: The Financial Crisis: Causes and Policy Responses
Speaker: Il SaKong, Chair of G20 Summit Korea Coordinating Committee,
Chairman & CEO of the Korea International Trade Association
Chair: Justin Lin, The World Bank

10:30 – 12:00

PLENARY SESSION I: Industrial Policy and Development
Speakers: James Robinson, Harvard University, USA
Ha-Joon Chang, University of Cambridge, UK
Discussants: Karen R. Polenske, MIT, USA
Bert Hofman, The World Bank
Chair: Oh-Seok Hyun, President, Korea Development Institute (KDI)

12:00 – 14:00

Lunch

14:00 – 15:30

PLENARY SESSION 2: Social Capital, Institutions, and Development
Speakers: Partha Dasgupta, Cambridge University, UK
Masahiko Aoki, Stanford University, USA
Discussants: Wonhyuk Lim, Korea Development Institute (KDI)
Mariano Tommasi, Universidad de San Andres, Argentina
Chair: Jongryn Mo, Yonsei University, Korea

15:30 – 16:00

Coffee Break

16:00 – 18:00

PARALLEL SESSIONS: FIRST SERIES

Session 1: The Growth-Employment Challenge: A Comparative Approach between Asian Economic Transitions and Africa Today
Panelists: Jorge Saba Arbache, Bruno Losch, The World Bank
Shujiro Urata, Waseda University, Tokyo
Thierry Giordano, Ministry of Foreign and European Affairs, France
Alan Gelb, The World Bank
Discussants: Anne Krueger, Johns Hopkins University, USA
James A. Robinson, Harvard University, USA
Chair: Justin Lin, The World Bank
*Organizers: Jorge Saba Arbache & Bruno Losch, The World Bank

Session 2: Climate Change and Development
Speakers: Johan Schaar, Ministry of Foreign Affairs, Sweden
Discussants: Sunita Narain, Centre for Science and Environment, India
Shinya Ejima, Japan International Cooperation Agency (JICA)
Chair: Torgny Holmgren, Ministry of Foreign Affairs, Sweden
*Organizer: Torgny Holmgren, Ministry of Foreign Affairs, Sweden

Session 3: East Asian Integration, Growth, and Business Cycle: Old Issues in a New Context
Speakers: Chin Hee Hahn, Korea Development Institute (KDI)
Cyn-Young Park, Asian Development Bank (ADB)
Fukunari Kimura, Keio University, Japan
Discussants: Seok-Kyun Hur, Korea Development Institute (KDI)
Prema-chandra Athukorala, Australia National University
Yong-Seok Choi, Kyung Hee University, Korea
Chair: MoonJoong Tcha, Korea Development Institute (KDI)
*Organizer: Chin Hee Hahn, Korea Development Institute (KDI)
June 23
07:30 – 09:00

BREAKFAST SESSIONS: FIRST SERIES

Session 1:ICT Innovation in Africa
Speakers: Megumi Muto, JICA Research Institute, Japan
Jenny Aker, Center for Global Development and Tufts University, USA
Discussant: Abdul Bayes, Jahangirnagar University, Bangladesh
Chair: Yasuo Fujita, JICA Research Institute, Japan
*Organizer: Yasuo Fujita, JICA Research Institute, Japan

Session 2: The Impacts of the Global Economics and Financial Crisis in Asia: in Search of Appropriate Development Policy Responses
Speakers: Guenther Taube, InWent, Germany
Chair: Gerhard Ressel, Federal Ministry for Economic Cooperation and
Development (BMZ), Germany
*Organizer: Joachim Mueller, InWent, Germany

Session 3: Disaster Risk Financing and Insurance: Opportunities for Public-Private Cooperation
Panelists: Abhas Kumar Jha, The World Bank
Chang-Gyun Park, Chung-Ang University, Korea
Reto Schnarwiler, Swiss Reinsurance Company, Ltd.
Joey Salceda, Governor, Albay Province, The Philippines
Seong Ju Kang, Ministry of Public Administration and Security, Korea
Chair: Abhas Kumar Jha, The World Bank

09:00 – 10:00

KEYNOTE ADDRESS 2: Development Prospects in Light of the Crisis
Speaker: Anne O. Krueger, Johns Hopkins University, USA
Chair: Boris Pleskovic, The World Bank

10:00 – 11:30

PLENARY SESSION 3: Financial Crisis and Regulation
Speakers: Yung Chul Park, Korea University
Joshua Aizenman, University of California, Santa Cruz
Discussants: Jaime Jaramillo-Vallejo, The World Bank
Jong-Wha Lee, Asian Development Bank (ADB)
Chair: Joong-kyung Choi, Ambassador to the Philippines, Korea

11:30 – 13:00

Lunch

13:00 – 14:00

KEYNOTE ADDRESS 3: The Global Crisis: Is It Over Yet?
Speaker: Simon Johnson, MIT, USA
Chair: Je Yoon Shin, Ministry of Strategy and Finance, Korea

14:00 – 15:30

PLENARY SESSION 4: The Road Ahead to a Sustainable Global Economic System
Speakers: Stijn Claessens, International Monetary Fund (IMF)
Giovanni Zanalda, Duke University, USA
Discussants: Yoon Je Cho, Sogang University, Korea
Jeromin Zettelmeyer, European Bank for Reconstruction and
Development (EBRD)
Chair: Sang-woo Nam, KDI School of Public Policy and Management,
Korea

15:30 – 16:00

Coffee Break

16:00 –18:00

PARALLEL SESSIONS: SECOND SERIES

Session 4: Global Financial Crisis: A Development Perspective
Panelists: Justin Lin, The World Bank
Ernest Aryeetey, Institute of Statistical, Social, and Economic Research,
Ghana
William Cline, Peterson Institute for International Economics, USA
Cayetano W. Paderanga, University of the Philippines
Moderator: M. Zia Qureshi, The World Bank
*Organizer: M. Zia Qureshi, The World Bank

Session 5: Natural Shocks, Household/Firm Behaviour, and Policy Responses
Speakers: Yasuyuki Sawada, University of Tokyo, Japan
Albert Park, Oxford University, UK
Wang Sangui, Renmin University of China
Discussants: Hidehiko Ichimura, University of Tokyo, Japan
Jonna P. Estudillo, National Graduate Institute for Policy Studies, Japan
Chair: Keiichi Tsunekawa, JICA Research Institute, Japan
*Organizer: Keiichi Tsunekawa, JICA Research Institute, Japan

Session 6: Will Euro Adoption Mitigate or Deepen the Crisis Impact: Czech vs. Slovak Experience and Expectation
Speakers: Martin Barto, National Bank of Slovakia Vit Barta, Czech National Bank
Jeremy Lawson, OECD
Discussant: Jeremy Lawson, OECD
Chair: Lubomir Lizal, CERGE-EI, Czech Republic
*Organizer: Lubomir Lizal, CERGE-EI, Czech Republic

Session 7: Unification and Transition
Panelists: Jan Svejnar, University of Michigan, USA
Il Dong Koh, Korea Development Institute (KDI)
Byung-Yeon Kim, Seoul National University
Chair: Jeromin Zettelmeyer, European Bank for Reconstruction and
Development (EBRD)
*Organizer: Jeromin Zettelmeyer, European Bank for Reconstruction and
Development (EBRD)
June 24
07:30 –09:00

BREAKFAST SESSIONS: SECOND SERIES

Session 4 : Sharing Knowledge for Development
Speakers: Wonhyuk Lim, Korea Development Institute (KDI)
Jay-Hyung Kim, Korea Development Institute (KDI)
Discussants: Chong-Bum An, Sungkyunkwan University, Korea
Edward Reed, The Asia Foundation
Toru Yanagihara, Takushoku University, Japan
Chair: MoonJoong Tcha, Korea Development Institute (KDI)
*Organizer: Wonhyuk Lim, Korea Development Institute (KDI)

Session 5: New Partnership with EDCF for Growth and Development
Speaker: Eungho Ahn, Korea Eximbank
Discussants: Siwook Lee, Korea Development Institute (KDI)
Jione Jung, Korea Institute for International Economic Policy (KIEP)
Mansur Ly, Embassy of Senegal in Korea
Chair: Taeho Bark, Seoul National University
*Organizer: Eungho Ahn, Korea Eximbank

Session 6: Charting a Global Recovery
Speakers: Mansoor Dailami, The World Bank
Hans Timmer, The World Bank
Philip Turner, Bank of International Settlements, Switzerland
Chair: Justin Lin, The World Bank
*Organizer: Mansoor Dailami, The World Bank

09:00 –10:00

KEYNOTE ADDRESS 4: Emerging Market Countries in the Crisis
Speaker: Olivier J. Blanchard, International Monetary Fund (IMF)
Chair: In June Kim, Seoul National University, Korea

10:15 –11:45

PLENARY SESSION 5: Innovation and Competition
Speakers: Philip R. Lane, Trinity College, Dublin
Sungchul Chung, Science Technology Policy Institute, Korea
Discussants: Jan Svejnar, University of Michigan, USA
Jean-Jacques Dethier, The World Bank
Chair: Shahrokh Fardoust, The World Bank

11:45 –12:45

ROUND Table: Challenges to Resolving the Global Financial Crisis – Quickly and Effectively
Panelists: Olivier J. Blanchard, International Monetary Fund (IMF)
Jan Svejnar, University of Michigan, USA
Chair: Yung Chul Park, Korea University

12:45 –13:30

CLOSING SESSION:
Award Ceremony of the World Bank Essay Competition
Justin Lin, The World Bank

Summary of the Conference
Alan Gelb, The World Bank

Closing Remarks
Young Geol Lee, Vice Minister of Strategy and Finance, Korea

Handover of ABCDE 2010 to Sweden
Lars Vargö, Swedish Ambassador to the Republic of Korea
Young Geol Lee, Vice Minister of Strategy and Finance, Korea
| | |
| --- | --- |
| Day | June 22, 2009(Mon) - June 24, 2009(Wed) |
| Place | The Shilla Seoul, Korea |