On June 10, "Toward a Theory of Human Security," a JICA-RI working paper by JICA President Akihiko Tanaka, was featured on HDialogue, a blog for dialogue among experts, policy-makers and practitioners of "human development."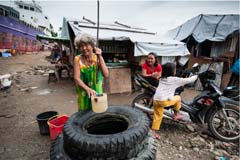 Tacloban, Philippines after the 2013
Typhoon Yolanda (Photo: Mika Tanimoto/JICA)
The blog is run by the Human Development Report Office of the United Nations Development Programme (UNDP). It was created for opinion leaders, policymakers, media members, experts, students and others interested in human development, data scientists and developers of data tools.
According to the UNDP's Human Development Reports website, "human development focuses on improving the lives people lead rather than assuming that economic growth will lead, automatically, to greater well-being for all."
Since its first publication in 1990, the Human Development Report has advocated innovative development ideas and has become one of the most influential reports in the field of international development.
Since May 2012, Tanaka has been a member of the Human Development Report Office Advisory Panel.
Tanaka's working paper focuses on the concept of "human security," which a U.N. resolution defines as "the right of people to live in freedom and dignity, free from poverty and despair."
The paper "offers an interdisciplinary theoretical framework in which key aspects of human security are systematically laid out: types of threats from physical, living, and social systems; causal structures that produce threats to human security; instruments to deal with these threats; and issues of agency to protect human security."
HDialogue "Human Security : A stronger framework for a more secure future"