JICA-RI Convenes Group-wide Seminar with World Bank Experts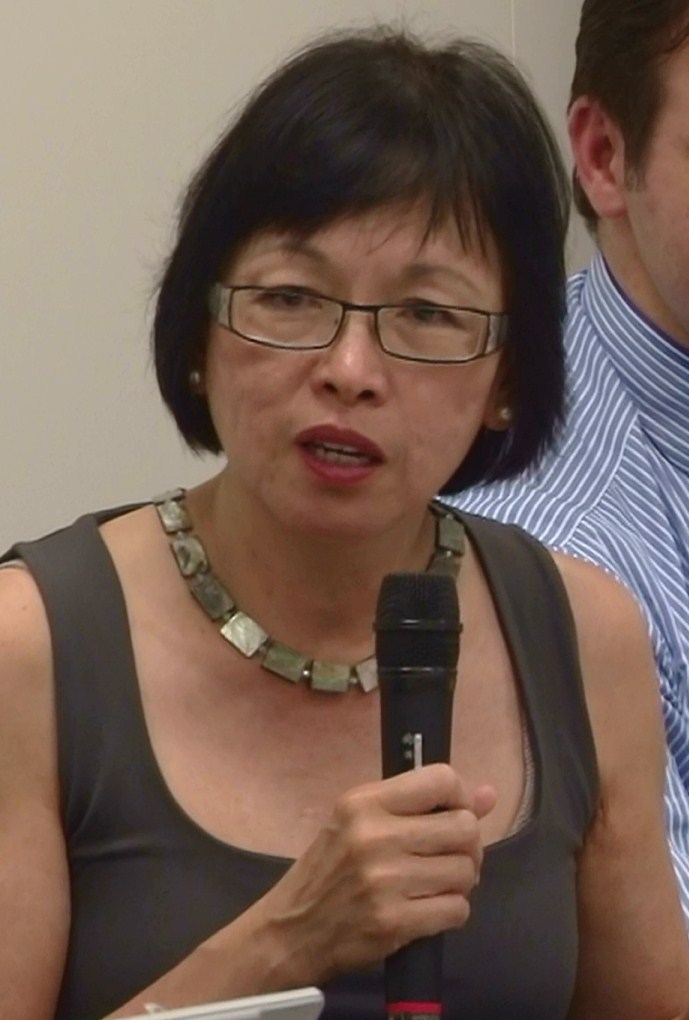 Dr. Elizabeth King
On June 3, 2011, JICA-RI welcomed Dr. Elizabeth King, the World Bank's director of education at human development network, and Dr. Harry Patrinos, their lead education economist, and organized a group-wide seminar at JICA Headquarters. This was to learn their latest strategy and ongoing projects on education, and to provide an opportunity to promote communication between the two institutions. Attendees included: JICA-RI's director Akio Hosono, deputy director Hiroshi Kato, research fellow Yuki Takako and other researchers; JICA headquarters' staff in charge of educational projects; and scholars from major Japanese universities, while JICA project practitioners in Indonesia and Ethiopia participated by satellite. After a welcome remark by the JICA-RI side, Dr. King shared the core ideas behind "Education Strategy 2020," the Bank's educational approach and goals newly announced this spring.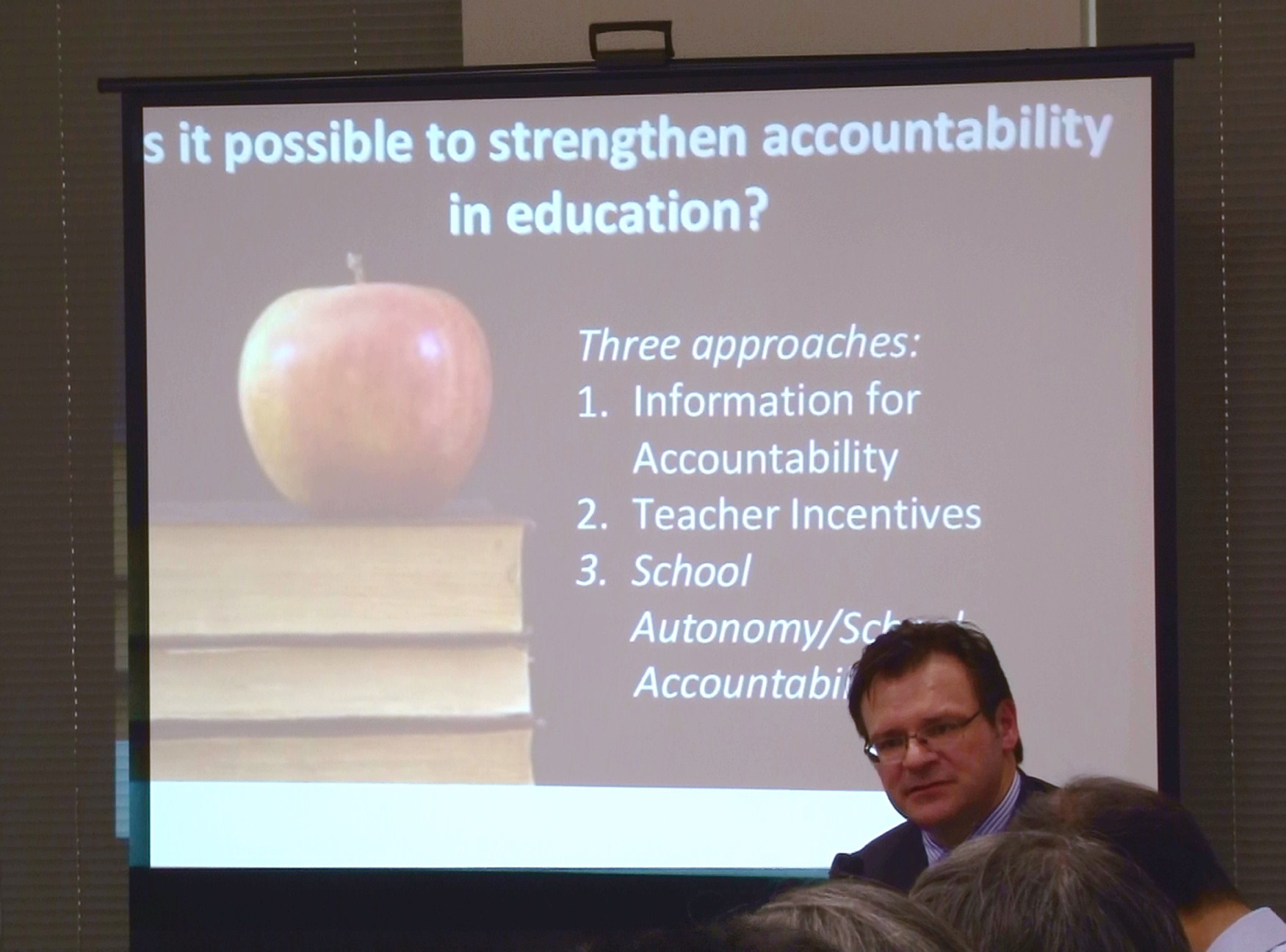 Dr. Harry Patrinos
According to Dr. King, the last decade has seen positive signs of education and related development policies working effectively such as rising average rates of primary school enrollment in poor countries or fast-declining number of out-of-school children of the same age group. Yet improved enrollment ratios do not guarantee quality performance. Dr. King said, "Education is not a passive activity but a participatory one," implying the need for a different approach besides providing assistance for infrastructure like school buildings. For this, Education Strategy 2020 calls for three actions; invest early, invest smartly, and invest for all, with a strong emphasis on accountability and results.
Along the line of the above-mentioned strategy, the World Bank published a book Making Schools Work: New Evidence on Accountability Reforms. Introduced in person by co-author Dr. Patrinos, the book points out the "service failures" of conventional educational policies to deliver results and discusses specific examples of school reform programs in place in various countries. Dr. Patrinos further stressed the need of more autonomy, assessment and accountability to realize effectively-functioning schools.
JICA has been engaged in a variety of educational reform programs in developing countries such as "School for All" project in Niger [Go to JICA-RI Newsletter article on "School for All"] and girl's education project in Yemen [Go to the article of research on Yemen's education]. Staff including JICA-RI research associates Eiji Kozuka and Shunichiro Honda, and JICA expert in Jakarta, Tomoko Masuda, though their philosophy and approach may differ from the ones of the Bank, showed appreciation for their presentations and shared comments referring to their research/projects.
Future Collaboration Pursued in Shaping New Educational Assessment System

In the following week, for three days from June 6, the World Bank organized a major conference in Bali, Indonesia, to launch an assessment and benchmarking program which is designed to support the above-mentioned strategy. This program, called Systems Assessment and Benchmarking for Education Results (SABER), is to provide data and information to explore what forms and types of educational policies can effectively deliver learning outcomes on a global scale. They aim to thoroughly examine each country's education system and their associated policy domains (such as assessment, education finance, and autonomy and accountability) against international standards, compare them, and build an encompassing knowledge base to raise learning achievements of children worldwide.
Before the policymakers from 14 East Asian countries, and education experts from global institutions including the UNESCO, the OECD, the Asian Development Bank and JICA and countries like Colombia, Korea, and Poland, the pilot results of SABER applied to the region were shared for the first time. Participants' reaction was positive in general, though there were various comments on how they can be refined. Yuki of JICA-RI, who chaired at one of the sessions, explains, "SABER can be a useful tool to compare educational policies -- which are complicated by nature-- in a simple but comprehensive way. Yet current pilot results mostly address national level policies, and that is not enough when an organization like JICA supports a regional-level practice under decentralization policy of a developing country [as SABER's coverage does not reach this level with respectively diverse cases]." She elaborates further, "JICA has field-based experience and knowledge, and can contribute to the SABER program by proposing critical indicators to be added towards raising the quality of this tool."
Currently, JICA-RI, along with JICA's Human Development Department, is in talks with the World Bank for a future collaborative research project related to the SABER program. Yuki's expectations are high. "By engaging in the creation of the new system at an early stage, we would be able to gain valuable information, and reflect what's learnt to the operations in our partner countries."
Related Research Area: Aid Strategy
| | |
| --- | --- |
| Day | June 03, 2011(Fri) |
| Place | JICA Headquarters |
| Organizer | The World Bank, JICA |