On June 27, senior research fellow, Atsushi Hanatani, discussed his findings from a case study on the management of water supply facilities as common pool resources by local residents in Senegal at a JICA-RI's symposium. His presentation was an interim report on "A Study on Village Water Supply Organizations and the Formation of Harmonious Local Societies in Africa"— JICA-RI's research project with focus on poverty reduction in Africa's farming communities.
This session, titled "Maintenance and Control of Village Water Supply Facilities and Societies and Africa," was organized as the second part of the symposium series "Sustainable Water Use and Management in Rural Africa." Among the participants were JICA staff, and researchers and experts in the related field.
Following Hanatani's presentation, some of the audience asked questions such as: "What is the relation between water charges and people's willingness to pay like?" and "Is operating local businesses effective in urging local people to pay water charges? [as they would earn money and can consequently afford to pay]."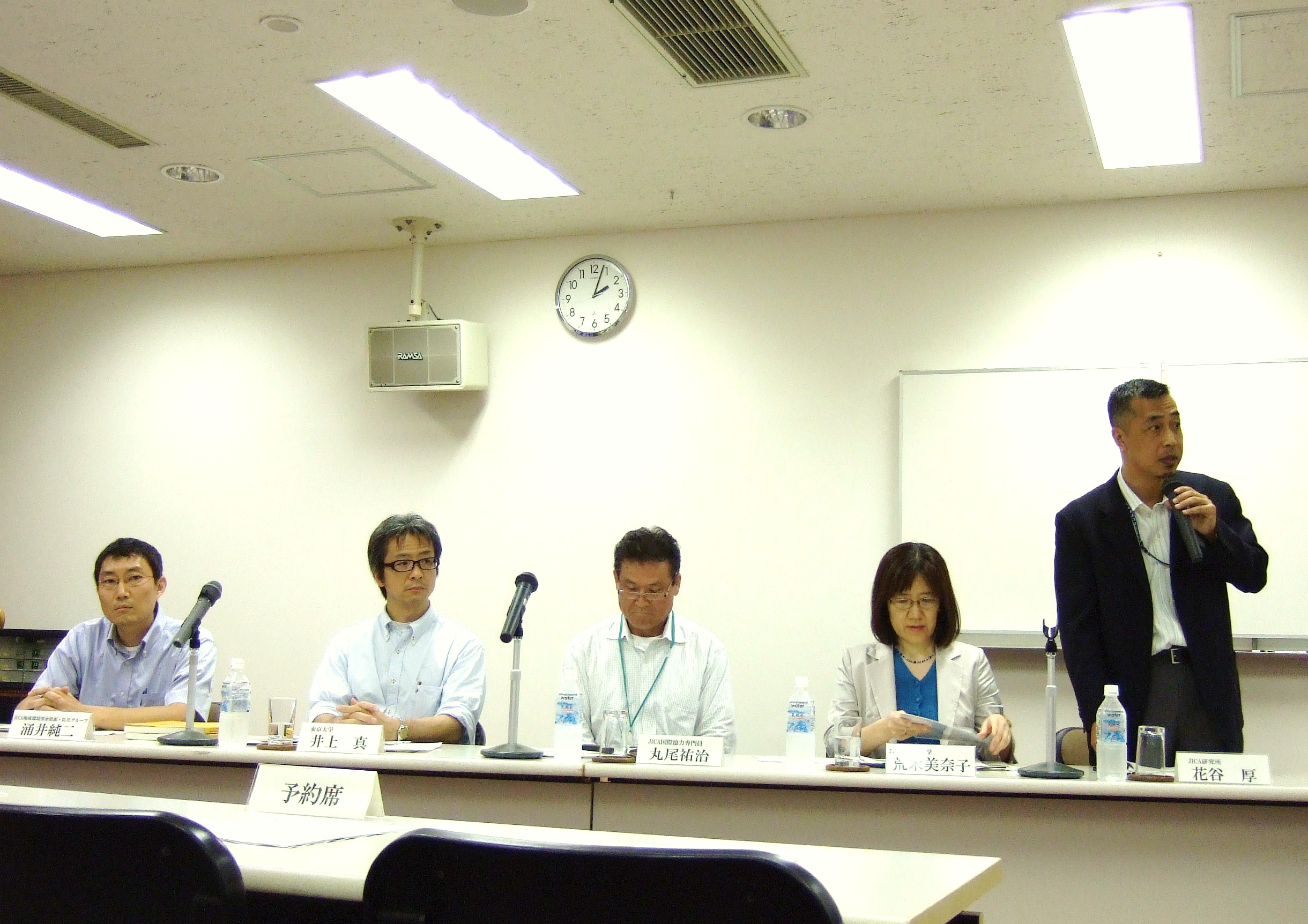 To the first question, Hanatani said: "Generally speaking, they have the will to pay before the service starts. [Rather, the question is whether they will remain willing to do so later.] In order to maintain the service on a continuous basis, it is necessary to take the issue of collective behavior into consideration." In response to the latter, he explained that if the water from the supply facilities and the money collected as water charge is used to run local businesses, it could limit the amount of water available for local people's use as well as the flow of collected fund to be used for maintenance of the facilities. And he added, "Therefore, it is necessary to limit the amount of water and money to be used for such businesses." Based on these discussions, Hanatani concluded that it is important to analyze users' involvement in the management and control of the systems from the viewpoint of collective action.
At this symposium, Minako Araki, a research member of the above JICA-RI's project and associate professor at Ochanomizu University Graduate School of Humanities and Sciences, also gave a presentation on her study in Tanzania. Under the title of "the Factors for the Spontaneous Development of Water Supply Operation and the Process of 'Forming Common Pool Resources,'" she stressed the necessity of gaining and sharing experiences in varied localities. Another research member of the project and JICA senior advisor, Yuji Maruo, reported on the current diffusion rate and the operating rate of water wells in Zambia in his presentation: "Village Water Supply in Africa: Problems to be Cleared for a Continuing Maintenance and Control."
JICA-RI will reflect the active discussions at the symposium in finalizing project results in the future, and will aim to provide feedback as policy implications to operations on the field.
| | |
| --- | --- |
| Day | June 27, 2011(Mon) |
| Place | JICA Research Institute |
| Organizer | JICA Research Institute |