In the recent world news, Yemen has grabbed the spotlight for unsettling stories like the anti-governmental demonstrations. Yet, little focus has been given to the status of education in this one of the poorest countries in the region. The gender gap in accessing basic education is the world's worst and the adult literacy rate is 76% for men, 39% for women (UNESCO/GMR 2009). With a request from the Yemeni Government, JICA has been assisting to promote girls' education since 2005. JICA-RI's research project "Human Capital Formulation and Gender Equality in Conflict-Affected Islamic States: Cases of Basic Education in Yemen" aims to investigate the effect of girls' education on gender equality, and is aligned with the above JICA operation. [For more, read Newsletter No.15 and JICA-RI Focus online.]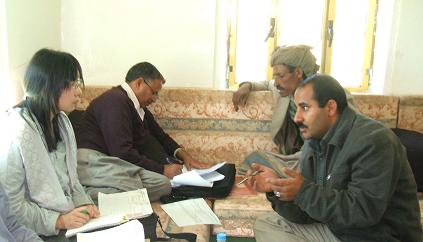 From January 20th to 28th, Research Fellow Takako Yuki, who leads the research, and her team visited the capital city Sana'a, with the aim to train local researchers and pre-test the contents of the school and village survey. During her stay, Yuki held workshops for over 30 core researchers from Education Research Development Center (ERDC) under the Ministry of Education. Furthermore, her team tested the questions of the survey drafts on suburban villagers on a preliminary basis and provided on-the-job training to the ERDC staffs who would handle systematic survey processes for the first time.
Based on the interactions with the Yemeni people, Yuki is currently fine-tuning the questions of the survey to make them more appropriate under the local Muslim context. She explains, "This is a Yemen-Japan joint research and it's important to take cultural and social sensitivities of the local people into full account." The actual implementation of the survey will begin from late February and her team intends to cover about 80 schools in two states.
Related Research Area: Aid Strategies
| | |
| --- | --- |
| Day | January 20, 2011(Thu) - January 28, 2011(Fri) |
| Place | Sana, Yemen |