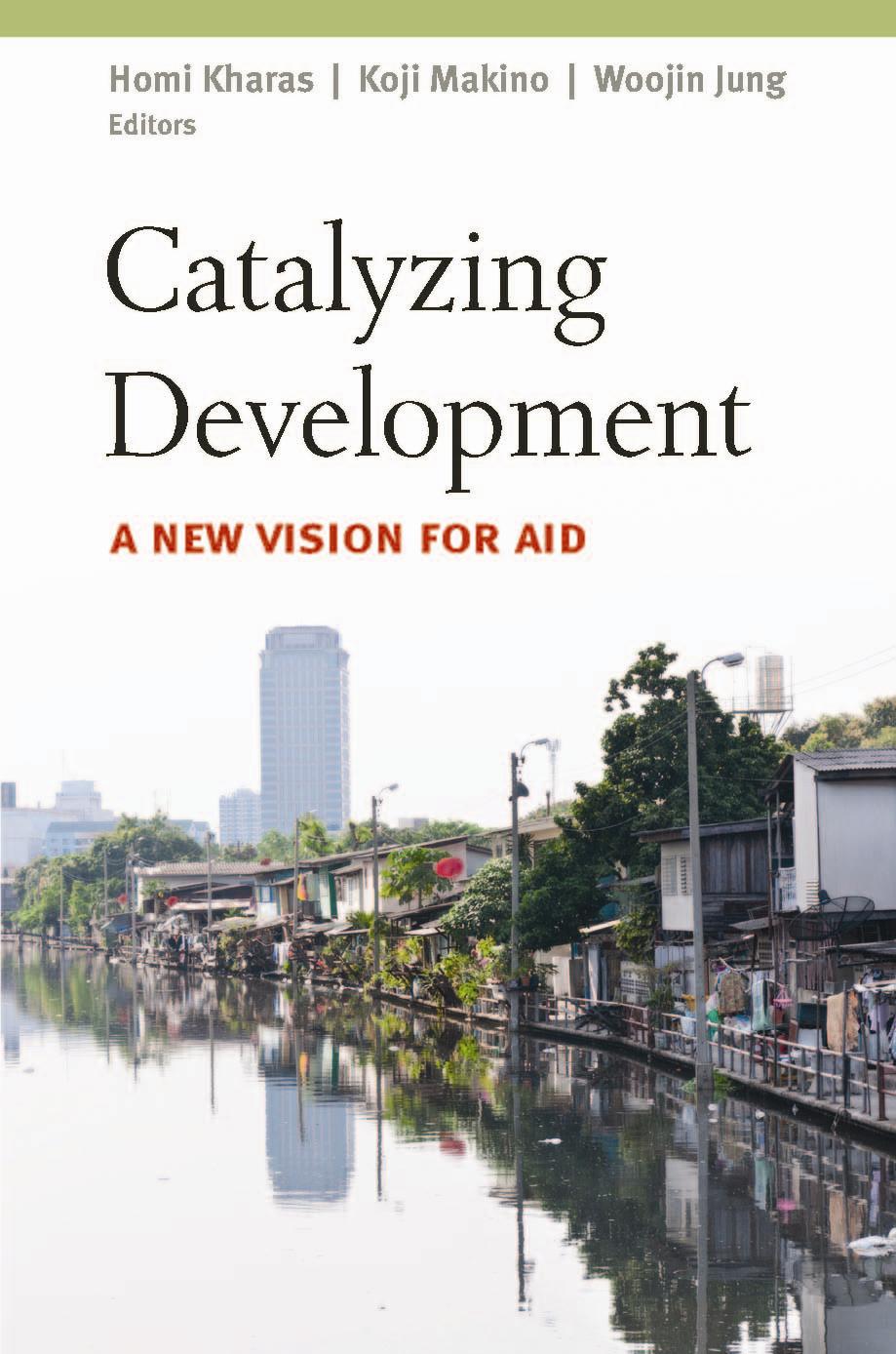 Aid Environment in Transformation
The Paris Declaration was put together in 2005 with the aim to boost aid effectiveness and consequently to help achieve Millennium Development Goals. In six years since then, the international aid community has experienced considerable changes. As the target year of the Declaration passed in 2010, development officials and policy makers will gather once again to review agendas on aid effectiveness at a high-level forum, this time in Busan, Korea, in November, 2011. The changes deserve an attention of high degree when contemplating various topics at the forum as their importance grows steadily. To analyze these new factors in detail and to present policy suggestions to a broad audience involved in aid work, a book Catalyzing Development: A New Vision for Aid is published from a joint project of JICA, Korea International Cooperation Agency and the Brookings Institution Wolfensohn Center for Development in the U.S (available from mid-June, 2011).
JICA-RI's research associate Ryutaro Murotani, a contributor to the book, explains that the Paris Declaration was drawn, based on traditional aid frameworks and ideas, and now that's not enough. While the world confronts tough challenges such as financial crises, climate change and inter-/intra-state conflicts and/or violence, the presence of new players like middle-income countries (e.g. India and China), nongovernmental organizations (e.g. the Bill and Melinda Gates Foundation) and private institutions (e.g. domestic and international corporations, financial institutions, and social enterprises) is being felt more and more. Murotani says, "The share of the aid provided by traditional donors in the financial inflow to developing world is on decline while that of the new players is increasing." Data from the book speaks for itself: OECD DAC assistance accounted for 80% of the total aid during 1995-1998, but it dropped to 56% in 2005-2008 while the aid from non-member governments and private philanthropy doubled to 37%. "It's essential to consider them as one of the key factors in a discussion of "development effectiveness" beyond aid effectiveness," Murotani points out.

A Book that Addresses the Critical




Catalyzing Development, edited by JICA's Koji Makino, KOICA's Woojin Jung and Brookings' Homi Kharas, is divided into three major sections; New Players, New Challenges, and New Approaches. The New Players section introduces nontraditional actors such as private corporations and middle-income countries, their roles and strategies and the ways to coordinate partnerships with them. The second section, New Challenges, shows ongoing topics like fragility, capacity development and climate change respectively, while in-depth analyses on aid transparency, south-south cooperation and scaling-up are shared in the New Approaches section.
Among nearly 20 researchers and experts who contributed to the book globally, JICA-RI's team of Keiichi Tsunekawa (senior research advisor), Shinichi Takeuchi (senior research fellow) and Murotani was in charge of a chapter on fragility. The team takes a thorough and comparative look at cases in four countries --Afghanistan, Cambodia, Rwanda and the Democratic Republic of Congo-- and stresses that, in order to support the formation of an effective and legitimate state, it's essential to closely monitor the following: the changing perceptions of people and their relationships with their state, and the actual improvements in security and living conditions. At the end, they suggest several policy options based on careful diagnosis of each country in fragile situations.
Another JICA-RI research team led by director Akio Hosono discusses the ever-growing significance of capacity development concept (CD). They re-visit the concept by examining specific case studies in Indonesia, Niger and Bangladesh, and propose five factors that facilitate the process. In their chapter, the team also argues that CD remains relevant and critical to development operations today. A member of the CD team, research associate Shunichiro Honda says, "We hope our chapter with the selective recommendations will contribute to the further advancement of CD agenda at the High-Level Forum."

*The book is published by Brookings Institution Press and is available in English.
Related Research Area: Aid Strategies