On February 26, JICA-RI's Senior Research Advisor (SRA) Akio Hosono gave a lecture at National School of Development of Peking University. This lecture was given at the invitation of Professor Justin Lin of Peking University, who is a former Senior Vice President and Chief Economist of the World Bank.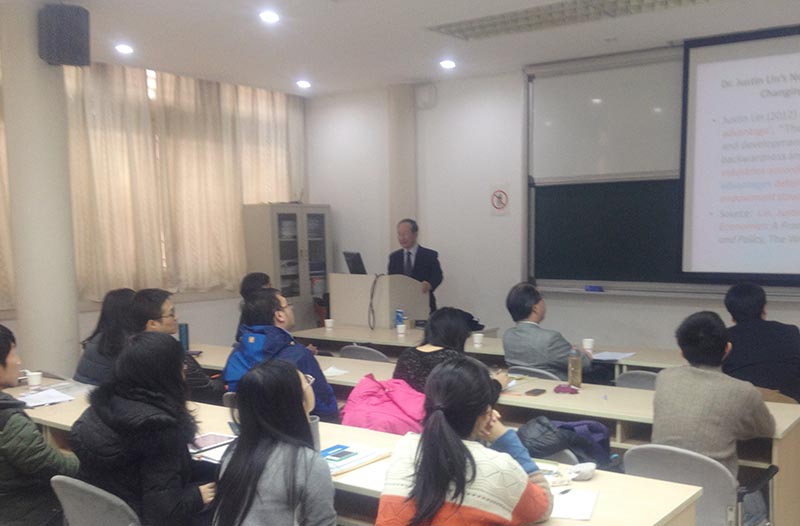 Hosono gave a lecture
Professor Lin has advocated New Structural Economics (NSE), a concept that the effective route for developing countries' learning and development is to exploit the advantage of backwardness and upgrade and diversify into new industries according to the changing comparative advantages determined by changes in their endowment structure. He considers it useful to add both hard and soft infrastructure as components in an economy's endowment.
SRA Hosono gave a lecture entitled "Industrial Strategy and Economic Transformation from a New Structural Economics Perspective." In the lecture, he emphasized the importance of the roles that infrastructure and technological innovation play, while explaining the process that each country attains the "dynamic comparative advantage," using case studies: agriculture in the Cerrado region of Brazil; automobile industry in Thailand; the salmon farming industry in Chile; apparel industry in Bangladesh; rice industry in Tanzania; and industrial policies in Singapore. He also pointed out: "For achieving the dynamic comparative advantage, public institutions should take initiative in market failure-prone areas such as infrastructure and technological innovation."
Approximately forty faculty staff and students of Peking University participated in the meeting, exchanging active questions and answers.
<Related Link>
* JICA-RI Seminar: The World Bank Chief Economist Justin Lin Proposes a Fresh Approach to Rethink Development
| | |
| --- | --- |
| Day | February 26, 2014(Wed) |
| Place | Beijing, China |