In preparation for 2015, the target year of the United Nations Millennium Development Goals (MDGs), discussions are progressing over the post-2015 development framework. Against this backdrop, JICA-RI hosted an open seminar on "environment and development cooperation," inviting Mr. John Carstensen, Head of Profession for Climate and Environment at Department for International Development (DFID), UK, and Chair of the Network on Environment and Development Co-operation (ENVIRONET) of the OECD Development Assistance Committee (DAC). The event was organized with the support of the Ministry of Foreign Affairs of Japan, the British Embassy Tokyo, and the Organisation for Economic Co-operation and Development (OECD) Tokyo Centre.
The seminar on March 26 began with the opening remarks given by Mr. Ken O'Flaherty, Prosperity Counsellor of the British Embassy Tokyo, and Mr. Masayuki Karasawa, Head of the Office for Global Issues and Development Partnership at Operations Strategy Department of JICA.
Mr. Carstensen gave a presentation on the efforts of DFID and OECD-DAC ENVIRONET under the theme of "Environment, Climate Change and Development." He first raised a topic of "climate and environment," one of the six priority development issues that DFID has identified, introducing the four main areas of focus: 1) helping the poorest people adapt to the effects of climate change on their lives and livelihoods; 2) helping poor countries develop in ways that avoid or reduce harmful greenhouse gas emissions and enabling millions of people to benefit from clean energy; 3) protecting the world's forests and the livelihoods of the people who depend on them; and 4) encouraging global action on climate change.
Furthermore, Mr. Carstensen referred to Future Fit DFID, which is a strategy for the UK to remain a world leader in development: the strategy aims to 1) understand and act on the links between poverty, climate change and sustainable economic development; 2) help countries build resilience, particularly in relation to food, water, energy and cities; and 3) seek out opportunities to innovate, building new partnerships with the private sector, and capitalizing on UK excellence in delivering cutting edge research.
On the post-2015 framework with a focus of poverty alleviation and sustainable economic development, Mr. Carstensen pointed out the importance of good governance, peace and stability, anti-corruption, and the role of women and girls. He emphasized that these are key factors in the natural resource management that is essential for poverty reduction. He stated: "Global prosperity and eradicating extreme poverty are impossible without addressing climate change, and climate should therefore be integrated throughout the post-2015 framework and all goals should be climate-smart."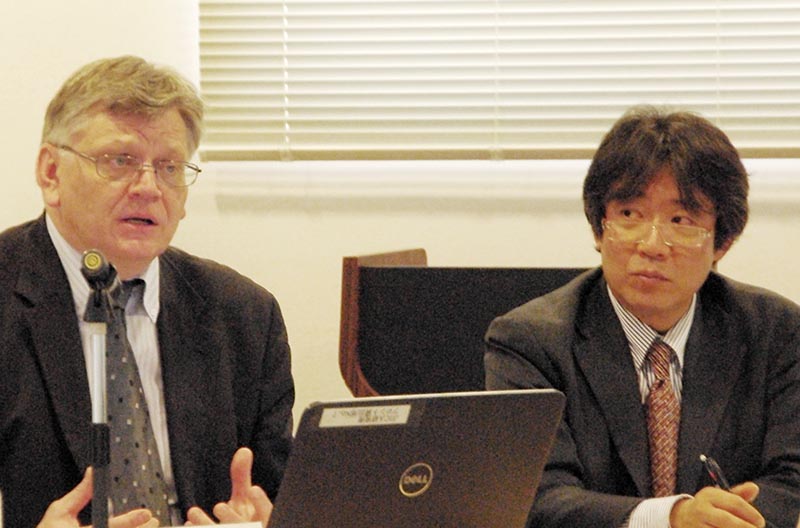 Furthermore, as the roles of OECD-DAC ENVIRONET where Mr. Carstensen chairs, he proposed to promote the effective implementation, measurement, monitoring and evaluation of the environmental dimensions of a post-2015 framework. He also pointed out key donors' coordination roles such as improved understanding of the role of green growth in ensuring poverty alleviation and equitable economic development, including mobilization and private funds. He further advanced improved quality of effective development policy and co-operation practices related to climate-resilient urban development, green growth, strategic environmental assessment, climate adaptation and biodiversity, by effectively sharing knowledge and best practice among donors and other partners.
Following Mr. Carstensen's presentation, JICA-RI Senior Research Fellow Tomonori Sudo, who serves as a Bureau Member of ENVIRONET along with Mr. Carstensen, moderated an open floor discussion. Foreign students living in Japan and participants from other research institutions engaged in discussions on a wide range of issues including the correlation between economic growth and natural resources in developing countries, and the role of official development assistance (ODA) in environmental conservation. To conclude the seminar, Ms. Yumiko Murakami, Head of Tokyo Centre of OECD, gave the closing address.
The year 2014 marks the 50th anniversary of Japan's membership of the OECD and the 60th year of the foundation of Japanese ODA. In 2015, the post-2015 development agenda and post-2020 climate change framework are projected to be finalized. In preparation for this important milestone, JICA-RI continues to conduct research on development, environment and climate change and to disseminate its research findings.
MOVIE COMMENTARY
・John Carstensen/Head of Profession for Climate and Environment, DFID / Chair of ENVIRONET, OECD-DAC
| | |
| --- | --- |
| Day | March 26, 2014(Wed) |
| Place | JICA Ichigaya Building |
| Related File | |