JICA-RI has been collaborating on a joint research project with Prof. Joseph Stiglitz-led IPD (Initiative for Policy Dialogue) based at Columbia University. As part of the joint study, a task force meeting was held in Jordan on June 5-6.
Senior Research Advisor Akio Hosono and Senior Research Fellow Go Shimada joined the meeting while it was attended by Professor Stiglitz, Prof. Akbar Noman and Professor José Antonio Ocampo of Columbia University from IPD, along with Professor Justin Yifu Lin of Peking University (former World Bank Chief Economist), and Professor Robert Wade of LSE.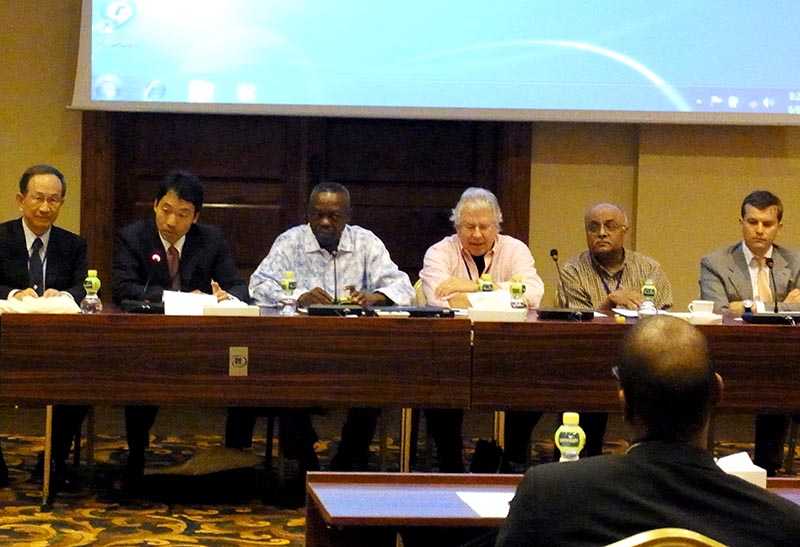 Hosono SRA(left),
Shimada Senior Research Fellow(second from left)
The meeting provided a venue for sharing their current research and exchanging opinions under the theme of "New Approaches to Industrial Policy." The participants discussed the key issues: to recognize that what influences on economic development is not just a gap in resources or output but a gap in knowledge; the significance of the impact and risk that financial policy impose on industrial development; and the role of the market and government. Hosono presented the results of analysis on industrial policy and the learning society reflecting inclusiveness. Shimada took up the issue of the relationship between social capital and economic growth as an influencing factor on the learning society, which was followed by a lively discussion on the theme.
After the meeting, Hosono and Shimada participated in the 17th International Economic Association (IEA) World Congress, also held in Jordan. They introduced JICA activities and initiatives for the Tokyo International Conference on African Development (TICAD) at the program for young African scholars.
| | |
| --- | --- |
| Day | June 05, 2014(Thu) - June 06, 2014(Fri) |
| Place | Jordan |