The East Asian Development Network (EADN), the East Asia network of the Global Development Network (GDN)*, held its 2013-2014 Annual Forum in Makati City, the Philippines, on July 7 and 8.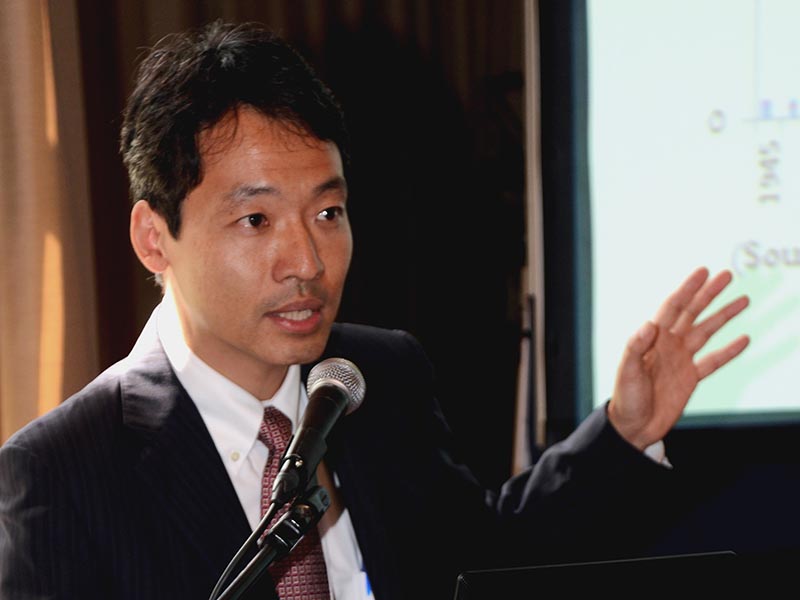 Senior Research Fellow
Shimada
The forum aims to share research results among participants, organizing five thematic sessions. JICA-RI and GDN have been jointly working on a research project "Case Studies on Resilience in Southeast Asia." The findings of the joint study project were shared at one of the five sessions.
In a session titled "Toward a Resilient Society," Ms. Widyawati B. Sumadio of Universitas Indonesia presented on Social Capital Development in Strengthening Community Resilience. From Thailand, Dr. Jeeraporn Kummabutr of Thammasat University reported on a Thai case study on Developing Resiliency in Children through Life Skills Training. From JICA-RI, Senior Research Fellow Go Shimada attended and gave a presentation entitled "Natural Disasters and Resilience." He introduced the result of quantitative research analysis on the role of social capital in the long-term process of reconstruction after the Great Hanshin Earthquake. He illustrated: social capital plays a significant role in generating job opportunities in tertiary industry; and securing job opportunities is a key factor in medium and long-term reconstruction.
The Q and A session reflected the participants' great interests in this theme. They raised questions such as: how social capital can be interpreted in highly mobile societies like the urban cities in the Philippines; and the role of NGOs in the reconstruction process after Typhoon Haiyan, which struck the Philippines in 2013.
*GDN is an international body that aims to present and share recent research results through networking. The headquarters is based in New Delhi, India.
| | |
| --- | --- |
| Day | July 07, 2014(Mon) - July 08, 2014(Tue) |
| Place | Philippines |
| Related File | |