On July 15, the Asian Development Bank Institute (ADBI) and the Inter-American Development Bank (IDB) co-hosted a panel discussion on cross-regional economic integration between the Asian region and Latin America in Tokyo. The panel entitled
"Emerging Issues in Latin America, Caribbean and Asia Pacific: Trade, Investment and Cooperation"
brought together approximately 80 participants in total.
The panel, built on the contents of the joint forthcoming ADBI/IDB book entitled New Frontiers in Asia-Latin America Integration: Production Networks, Trade Facilitation and FTAs, focused on the topic: new challenges that Latin America and Caribbean and the Asia Pacific regions have faced, while both regions become more intertwined in recent years.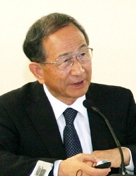 Hosono SRA
Following the presentations by Dr. Ganeshan Wignaraja, Director of Research at ADBI, and Dr. Antoni Estevadeordal, Manager of Integration and Trade at IDB, Dr. Naoyuki Yoshino, Dean of ADBI, moderated the discussion session. In this session JICA-RI's Senior Research Advisor Akio Hosono took the rostrum as a discussant. First Hosono pointed out that the "APEC Growth Strategy," which was declared at the 2010 APEC Summit in Yokohama, will serve as an important guideline in the light of economic growth in both regions. He mentioned that industrial transformation that generates stable employment will be a key factor to achieve inclusive and sustainable growth. He also explained that Japan has promoted cooperation and investment to prompt the industrial transformation in Asia along with its efforts and investment that has contributed to the industrial development in Latin America. Hosono concluded that Japan will play a significant role as a bridge between Asia, Latin America and Caribbean in strengthening economic ties between both regions.