Malnutrition is linked to nearly half of all deaths in children under five (WHO 2013), and is widespread in developing countries, especially in sub-Saharan Africa. Stunting in early childhood causes vulnerability to death and contracting diseases. It has also irreversible long-term consequences on cognitive development and labor productivity, which is likely to keep children trapped in the cycle of poverty. Reducing child malnutrition is one of the most important agendas in the Millennium Development Goals (MDGs).
JICA-RI Research Fellow Sakiko Shiratori has engaged in a research, analyzing and estimating the determinants of a child's nutritional status with an approach of applied economics. She presented her findings from the case of Tanzania at the Annual Meeting of the Agricultural and Applied Economics Association (AAEA) held in Minneapolis, Minnesota from July 27 to 29.
The Annual Meeting of AAEA is one of the well-recognized academic meetings in the field of applied economics. Approximately 1,700 people worldwide attended this year, discussing a wide variety of issues in food, agriculture, environment, natural resources, health, regional economies, and international development.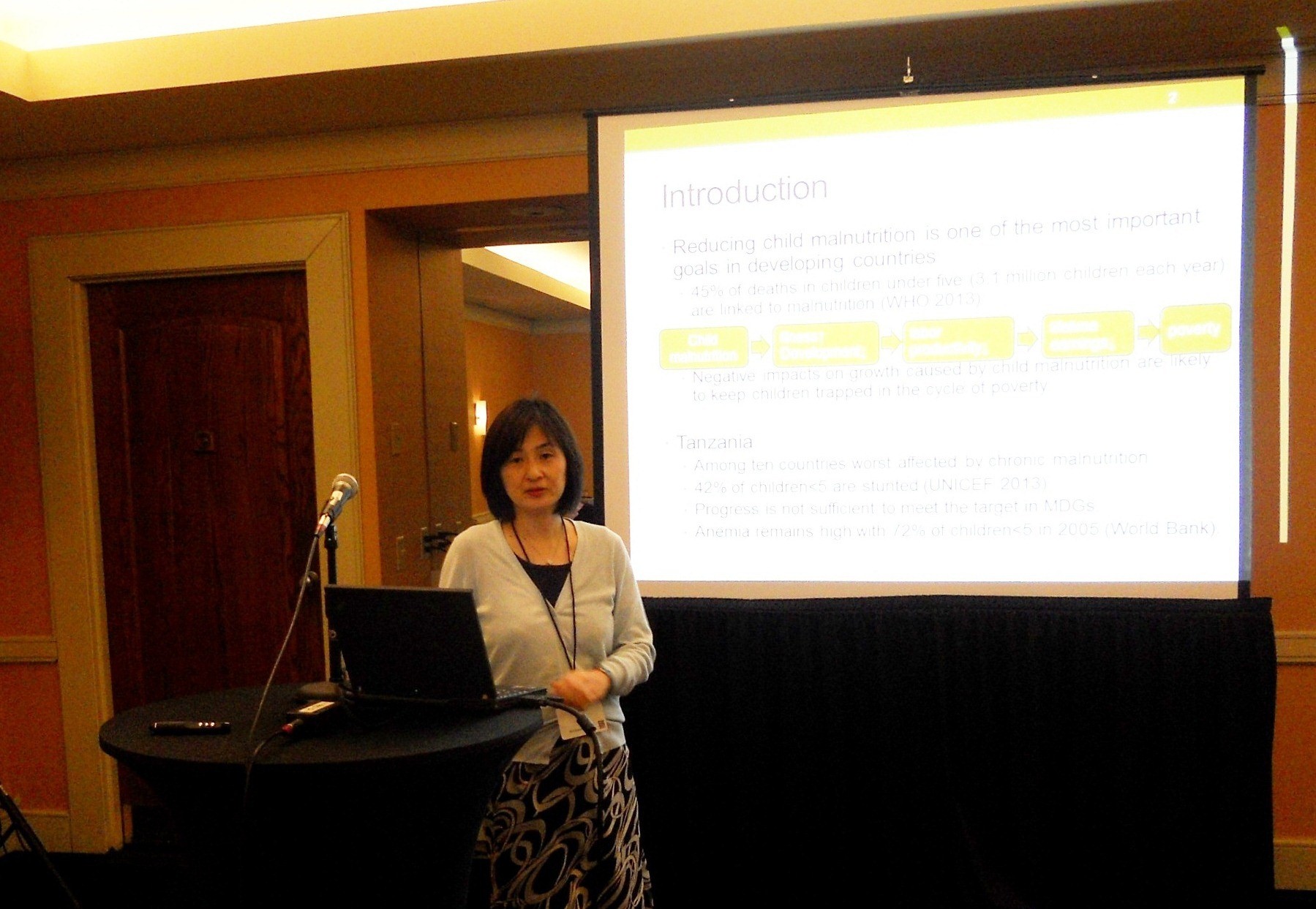 Research Fellow Shiratori
At a concurrent session on July 29, Shiratori presented a paper entitled "Determinants of Child Malnutrition in Tanzania: A Quantile Regression Approach." Using data of 8,023 children under five years old from 2010 Tanzania Demographic and Health Survey (DHS), the socioeconomic determinants of nutritional status is estimated. Focusing on height-for-age z-score (HAZ) and the level of hemoglobin as two indicators of long-term nutritional status, she analyzes a wide range of variables: age, sex, birth order, preceding birth interval, mothers' height, BMI, hemoglobin, parents' education, barrier for medical care, and access to safe drinking water.
The analysis shows that the mother's education (higher than primary school) is one of the significant factors that influence the child's growth, particularly distinct among the children suffering from chronic undernutrition. It also shows: large effects of mother's nutritional status on child's nutritional status imply that malnutrition is handed down from one generation to another.
As policy implications drawn from these findings, Shiratori pointed out the importance of integrated interventions with proven evidence in improving the nutrition and health of children, such as promoting mother's educational opportunities.
| | |
| --- | --- |
| Day | July 27, 2014(Sun) - July 29, 2014(Tue) |
| Place | Minneapolis, U.S. |