On August 14 and 15, JICA-RI held a workshop at the Asian Institute of Technology (AIT) in Bangkok, Thailand, to discuss issues on the monitoring and analysis of the fine particulate matter (PM 2.5) in Bangkok.
In recent years, combating air pollution has been a pressing issue in Asia, where the economies are growing very rapidly. In particular, PM 2.5 is of concern for people's health. Its cross-border impact draws attention on the actions to mitigate and control the problem.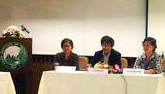 Senior Research Fellow
Sudo (Middle)
JICA-RI has launched a new research project called "Research on Policies for the Improvement of Air Quality in Asian Cities" in collaboration with overseas researchers, primarily in Thailand and China. The research project will survey the current state and causes of PM 2.5 emissions, increasing along with economic activities and urbanization in Asian countries. Specifically, the project plans to conduct the year-round monitoring of PM 2.5 in Bangkok to identify the causal factors. Drawing on the findings, the project is expected to make effective policy recommendations for the reduction of PM 2.5 emissions.

Research Fellow Narita
The workshop brought together with Senior Research Fellow Tomonori Sudo, Research Fellow Daiju Narita, and Research Assistant Yukinori Harada from JICA-RI, along with about 20 participants including: researchers from AIT and research institutes in Thailand; Director General Hajime Akimoto of the Asia Center for Air Pollution Research (ACAP); and practitioners from the Thai government and the Bangkok Metropolitan Administration.
Thai participants expressed strong expectation that the first year-round monitoring of PM 2.5 of this kind by the research project will identify causal factors of the problem, which would then give hints for specific policies for reducing PM 2.5 emissions. Senior Research Fellow Sudo emphasized the importance of the research as: "The research is expected not only to contribute to the reduction of PM 2.5 emissions in Bangkok, but also to progress in PM 2.5 emissions reduction policies in the Asian region as a whole."
| | |
| --- | --- |
| Day | August 14, 2014(Thu) - August 15, 2014(Fri) |
| Place | Asia Institute of Technology, Bangkok |