On September 1, the German Development Institute / Deutsches Institut für Entwicklungspolitik (DIE) held a public seminar entitled "Beyond Aid and the future of development cooperation." At this seminar, Yasutami Shimomura, Professor Emeritus at Hosei University, gave a lecture while JICA-RI Deputy Director Naohiro Kitano took part in a panel discussion.
The DIE is a German think-tank focused on international development research. Established in 1964, the DIE celebrates its 50th anniversary this year. The public seminar was held as part of the "Managing Global Governance (MGG)" program that has been jointly organized by the DIE and Deutsche Gesellschaft für Internationale Zusammenarbeit (GIZ) on behalf of the German Ministry for Economic Co-operation and Development (BMZ) since 2007. DIE and GIZ invite outstanding researchers and governmental officers in emerging countries. The seminar was held to discuss future of development cooperation, when development partners face not only income poverty but also new challenges such as climate change, inequality, and insecurity that cannot be solved through the traditional aid model.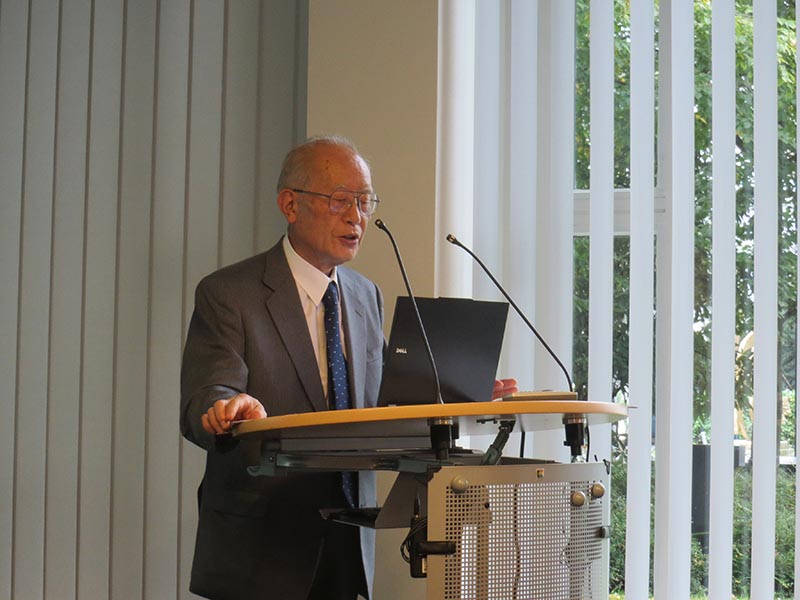 Professor Emeritus Shimomura
Shimomura gave a lecture entitled "Development Cooperation in the Post-2015 Era: An East Asian Perspective." He noted the importance of "self-reliance" in the post-2015 era. In light of experiences of economic growth in East Asia, he suggested the combination of two complementing models: "Trinity Development Cooperation" model, the effective use of trade, investment and aid; and the inclusive development model, that adopts Base of the Pyramid (BoP) business approaches to benefit the poor. After the lecture by Shimomura, Kitano joined the panel along with Thorsten Giehler, Head of "Policy and Strategy" in GIZ's Corporate Development Unit, and a lively debate ensued with the 100 or so participants.
The following day, at a seminar on the theme of the emerging countries organized as a part of the MGG program, Kitano gave a lecture entitled "Introduction of JICA's activities: focusing on research." He introduced JICA-RI's activities as well as the latest examples of cooperation by JICA. One of the examples of such was "the Project for the Eradication of Poliomyelitis in Pakistan" in collaboration with the Bill & Melinda Gates Foundation, where the loan underpinned by an innovating financing approach "loan conversion" was provided. Further, Kitano highlighted the Working Paper "Estimating China's Foreign Aid 2001-2013," which was published by JICA-RI as one of the outcomes of its research project focused on emerging countries.
JICA-RI started its collaboration with the DIE by organizing the joint workshop on general budget support in 2011, which was followed by subsequent exchanges of researchers, partnerships and other joint events such as the workshop on "Aid Fragmentation" held in February 2014. JICA-RI will deepen its partnership with the DIE further in research fields of common interest.
| | |
| --- | --- |
| Day | September 01, 2014(Mon) - September 03, 2014(Wed) |
| Place | Bonn, Germany |