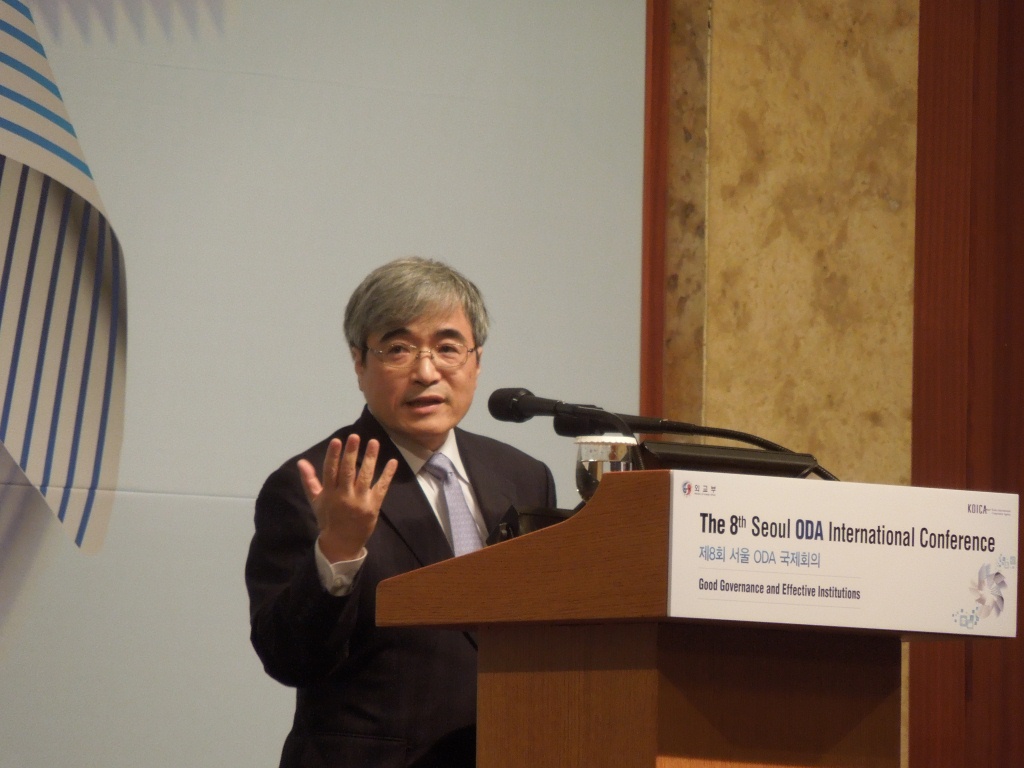 Director Kato deliveringa keynote speech
On September 2, the 8th Seoul ODA International Conference, hosted by the Ministry of Foreign Affairs of the Republic of Korea and the Korean International Cooperation Agency (KOICA), was held in Seoul, South Korea. At the conference on the theme "Good Governance and Effective Institutions," JICA-RI Director Hiroshi Kato delivered a keynote speech in the opening session.
In his speech, Kato highlighted following four points: 1) the need of constructive discussion on definitions and approaches of "governance and institutions" based on solid evidence; 2) the significance of the debate on the role of government in economic growth; 3) the importance of governance of policy implementation as well as policy making and; 4) the importance to employ approaches that are context-based, gradual, holistic, long-term, and consultative.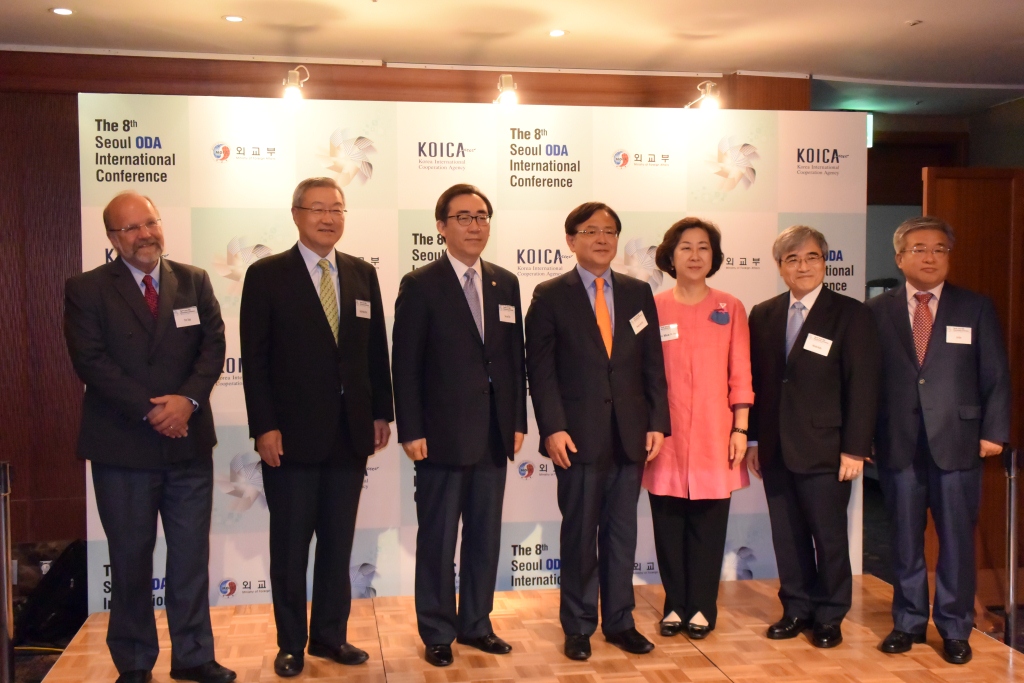 Director Kato and Representatives
Kato first pointed out that good governance has been argued by various stakeholders with different focus in economic, political and administrative aspects. However, in order to have constructive debate, each of the actors needs to be reflective and articulate about definitions and approaches based on solid evidence and not on ideology. Secondly he highlighted the importance on the role of the government in economic governance, which has been gaining momentum, as criticism of the Washington consensus mounted. The significance of the subject will increase, he stated, especially for the emerging economies and African countries.
Thirdly he contended that the good governance issues must not be limited to the realm of policy-making, but also policy implementation. As a case of Japan which shows the importance of governance of policy implementation, he introduced one of JICA projects in Niger, West Africa, "School for All." The project established "school management committees" for each and every primary school in the country, with participation of teachers, parents, and community members. The project encouraged the establishment of school committees that plan and implement activities to help improve the management of their primary school, which, as a whole, improved the education system in Niger considerably. The case highlights an example of improved governance in primary education covering both policy making and implementation. Finally, Kato introduced a project for legal and judicial system reform in Vietnam, where Japan has been supporting the country for almost 20 years. The project is a comprehensive support to all the legal and judicial actors and entities, and has brought robust and wide-ranging achievements. As lessons learnt from this project, Kato concluded, is that long-term, gradual, holistic and comprehensive approaches are the keys for successful assistance in good governance.
The opening session was followed by sessions entitled "General Discourse on Governance and Institution" and "Successes and Pitfalls: Stories of Donors and Partners." Representatives of organizations such as the Overseas Development Institute (ODI), the US Agency for International Development (USAID), and KOICA, as well as representatives of developing countries, such as Bolivia and Rwanda, participated in the sessions.
| | |
| --- | --- |
| Day | September 02, 2014(Tue) |
| Place | Seoul, Korea |