From October 14-17, 2014, the 8th International Conference of the Asian Society of Agricultural Economists (ASAE) was held in Dhaka, Bangladesh. The ASAE is an association for economists and other professionals aiming at exchanging academic information regarding agricultural economics and management with a focus on Asia.
JICA-RI is currently conducting a research project titled "Empirical Study on Risk and Poverty in Bangladesh." Some of the research findings will be compiled into the book Bangladesh Miracle and Challenges: Its Economic and Social Development. JICA-RI researchers participated in the conference and presented the research findings of this project at the two sessions.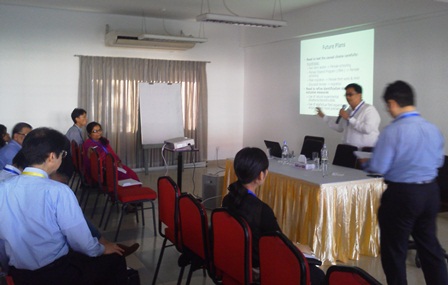 At the conference
At the first session, JICA-RI researchers presented research findings regarding the driving forces and challenges underlying the remarkable recent economic and social achievements of Bangladesh. The structural transformation of the economy and the activities of NGOs are identified as significant contributing factor to the remarkable progress in Bangladesh. Another presentation explained how the two leading industries, the ready-made garment industry and pharmaceutical industry, addressed major market failure problems to sustain high and inclusive growth. The domestic companies in Bangladesh acquired a share of the market by solving problems in each industry; technology gap in the ready-made garment industry, and the monopolization of the market by multinational corporations in the drug industry. The session also addressed the topic of the risks associated with rapid urbanization, another aspect of structural transformation: traffic accidents and environmental pollution. The results of the study using experimental economics to analyze the risk perception of the public indicated that road safety is more valued than other types of risks. Finally, the findings from the study on NGO sector employment and youth job preference were presented. The survey targeting at young NGO staffs and university students in Bangladesh showed that NGO sector employment as a profession is getting less attractive. In order to secure qualified human resources, it is necessary to improve welfare benefits and adjust work load in the NGO sector.
At the second session, three research findings on microfinance in Bangladesh were presented. Firstly, the result of structural estimation of the effects of subsidies for microfinance on its proliferation was shared. Secondly, a presentation was made on borrowing from multiple microfinance institutions (MFIs). It was found the number of overlapping or multiple borrowing is increasing both in Bangladesh and India. Some evidence of information sharing among MFIs was also confirmed in the analysis. The session was concluded with a presentation of research results regarding the influence of microfinance on improvements in the social status of women. The results of analysis of panel data from household surveys from 1998 to 2008 indicated trends of improvement in the social status of women, such as education opportunities and decline in the fertility rate, to which microfinance is likely to contributing.
| | |
| --- | --- |
| Day | October 14, 2014(Tue) - October 17, 2014(Fri) |
| Place | Dhaka, Bangladesh |