From October 31 to November 1, the North-East Asia Development Cooperation Forum was held in Seoul, South Korea. Northeast Asia is a driving force in global economic growth and has become a key player in development assistance, however, there has no joint process to share knowledge within the region. With the aim of sharing such knowledge, the forum was organized by the United Nations Economic and Social Commission for Asia and the Pacific, Subregional Office for East and North-East Asia (UNESCAP-ENEA) in partnership with the Korea Association of International Development and Cooperation.
JICA-RI Deputy Director Naohiro Kitano participated in the conference with the members of the Japan Society for International Development. Development researchers and practitioners from South Korea, China, and Russia also joined the forum.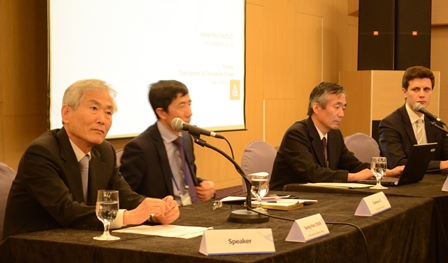 Kitano (second from the right)
At the session for sharing experiences of development assistance, Kitano, based on JICA-RI's activities, presented the examples of development support by JICA and cooperation with Northeast Asian countries. The examples included: the Eastern Seaboard Development Program, which has supported economic growth in Thailand, and "the Project for the Eradication of Poliomyelitis in Pakistan" in collaboration with the Bill & Melinda Gates Foundation, where the loan underpinned by an innovating financing approach "loan conversion" was provided. Three examples of collaboration with Northeast Asian countries were shared: the joint capacity development program between Korea International Cooperation Agency (KOICA) and JICA in the area of disaster prevention, Japan-China joint comparative research on agricultural cooperation in Africa conducted with China Agricultural University, and a one-year training project aimed at boosting the counter-narcotics capacities of Afghanistan by Japan and Russia with the United Nations Office on Drugs and Crime. Having touched upon the fact that Japan has long experience on south-south cooperation and triangular cooperation, Kitano stated that collaboration among Japan, Korea, China, and Russia in the field of development cooperation will enhance the value of assistance.
At the session, researchers from South Korea and China also gave presentations and a presenter from Russia outlined its ODA trends. Following the presentations, the participants lively exchanged their views on various issues including the potential for future collaboration.
| | |
| --- | --- |
| Day | October 31, 2014(Fri) - November 01, 2014(Sat) |
| Place | Seoul, Korea |