Maternal and neonatal mortality rates remain high in developing countries and need to be improved urgently. The Japanese Government announced a new Japan's Global Health Policy at the United Nations Summit on the Millennium Development Goals (MDGs) in September 2010. In the policy, Japan suggests the Ensure Mothers and Babies Regular Access to Care (EMBRACE) model, a package of effective interventions to improve the health of mothers and children through the Continuum of Care (CoC) approach.
In collaboration with the University of Tokyo and the Ghana Health Service (GHS), JICA has been conducting the research entitled "Ghana EMBRACE Implementation Research," aiming at evidence-based practice of the EMBRACE model. A workshop to share major outcomes of the intervention and to discuss the application of the research findings was held at JICA-RI on January 26, 2015, with two invited participants from the GHS.
Dr. Keiko Nanishi, Assistant Professor at the Department of Community and Global Health, in the Graduate School of Medicine at the University of Tokyo, presented Japan's policy on maternal and child health. Subsequently, Ms. Ryoko Nishida of the Japanese Organization for International Cooperation in Family Planning (JOICFP) reported on the progress of project activities in Ghana. The project introduced CoC cards that record the health of mother and child to ensure continuous service. In the course of interventions, some challenges were identified: appropriate stock management of CoC cards, securing accommodation facilities for expectant and nursing mothers, and improving the coordination between hospitals and health workers among other things.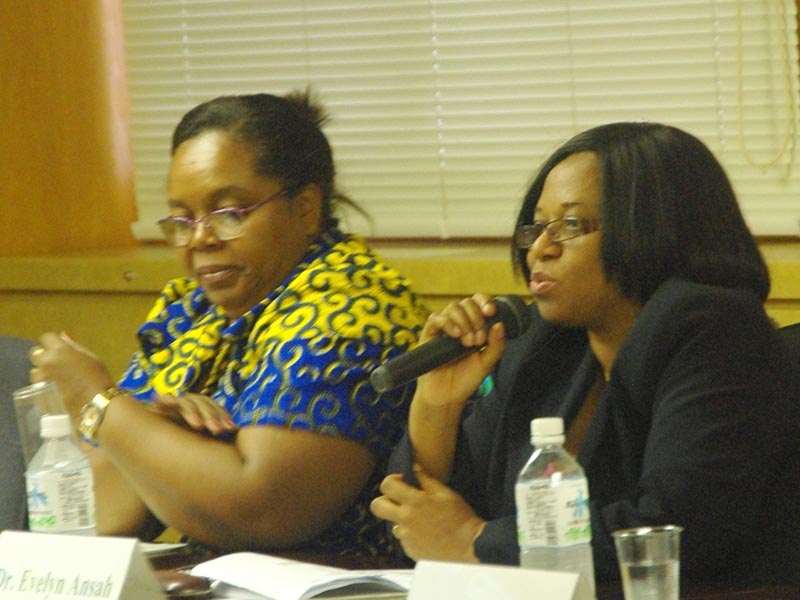 Dr. Quansah Asare(left),
Dr. Ansah(right)
Next, Dr. Kimiyo Kikuchi, Assistant Professor at the Department of Community and Global Health, in the Graduate School of Medicine at the University of Tokyo, and Dr. Evelyn Ansah, Deputy Director and Public Health Specialist of the Research and Development Division at the GHS, presented the progress and outcomes of the research project. The formative research has identified barriers and promoting factors of CoC, such as parents' low education, lack of family support, and difficult access to health service facilities. They also reported on the plan and progress of quantitative impact evaluation. The research findings are expected to be published in academic journals.
Finally, Dr. Gloria Quansah Asare, Deputy Director General of the GHS, presented on the possible application of research findings in health policies in Ghana. The EMBRACE model is aligned with the national Maternal Newborn Child Health (MNCH) policies and strategies focusing on maternity checkups and neonatal care. Dr. Asare underlined the importance of the research to fill in the CoC gap that may be underlying persistent poor MNCH indicators. Among the participants, advocating the concept of CoC with more stakeholders to raise awareness among health workers and mothers, and the development of facilities are identified as priority issues to be addressed.
| | |
| --- | --- |
| Day | January 26, 2015(Mon) |
| Place | JICA Ichigaya Building |