On February 4, 2015, JICA and the World Bank Group held a joint seminar on the World Development Report (WDR) 2015: Mind, Society, and Behavior at JICA-Research Institute in Tokyo, Japan.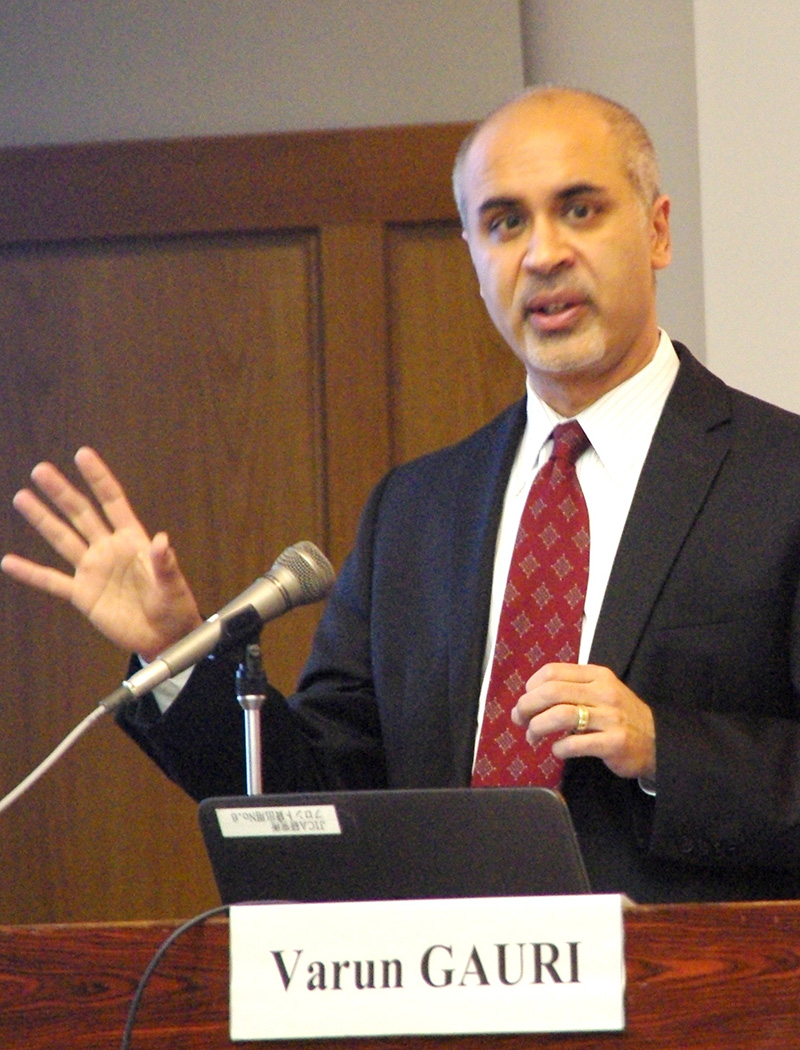 Dr. Gauri
At this seminar, co-director Varun Gauri presented an outline of the
World Development Report (WDR) 2015: Mind, Society, and Behavior
, which was followed by a panel discussion with Japanese researchers. JICA-RI Director Ichiro Tambo moderated the panel discussion, while JICA-RI Visiting Fellow Yasuyuki Sawada (Professor, Faculty of Economics and Graduate School of Economics, the University of Tokyo) participated as one of the panelists.
JICA Vice President Kiyoshi Kodera, in his opening remarks, explained the significance of the WDR and a history of meaningful influence over development policies and practices. Next, Dr. Gauri gave his keynote speech, highlighting main findings of the report. Humans are assumed to make decisions deliberatively, independently, and on the basis of consistent and self-interested preferences. However, Dr. Gauri pointed out that people think and make decisions automatically and socially, with mental models influenced by social norms and biases. He also explained that poverty is a decision making context that costs cognitive abilities. Therefore, he suggested, diagnosing and solving the psychological and social factors that influence development is vital in formulating and implementing policy and interventions. For instance, in Kenya, the weekly reminders of cellphone messages encouraging patients to take their antiretroviral medicine to treat HIV/AIDS was tested to be more effective than daily reminders; another study revealed that providing households with chlorination dispensers to ensure a supply of safe drinking water was more effective than any other intervention.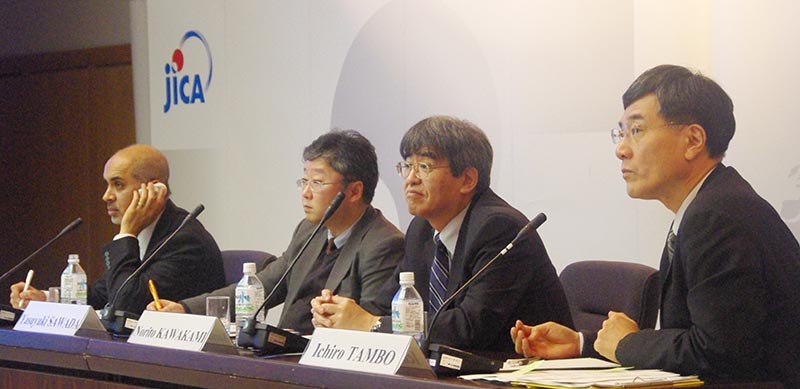 (from left)Dr. Gauri, Prof. Sawada,
Prof. Kawakami, Director Tambo
Professor Sawada and Norito Kawakami, Dean of the School of Public Health and Professor in the Department of Mental Health at the University of Tokyo's Graduate School of Medicine, made comments on Dr. Gauri's presentation. Sawada fist pointed out that development economics has witnessed remarkable achievements in recent years by deploying field experiments that enhance real world relevance of empirical studies, and the result of these researches had been meaningfully reflected in WDR2015. He highlighted an example of similar empirical research conducted by JICA, the study of social capital in school management in Africa, where a hybrid of artefactual and natural field experiment was applied. Sawada also indicated the limitations of empirical studies with experiments, such as external validity and robustness as policy instruments. Subsequently, Kawakami pointed out that mental health and well-being has a "dual effect" on sustainable development in both of productivity and the effective policy implementation, noting the fact that mental health affects our cognitive performance. Therefore, he suggested, providing educational programs and training for those with psychological difficulties and increasing trust among people are important to strengthen mental capital.
At the question and answer session, the floor actively discussed over various issues including the applicability of new approach to solve corruption issue in developing countries and the importance of mental health as a human capital. It was also pointed out that further analysis of social norms and biases building on existing researches are needed in order to propose practical and effective development policies.
Presentation files are available on the website of the World Bank
http://www.worldbank.org/en/events/2015/02/04/world-development-report-2015-mind-society-and-behavior
WDR2015 is available on the website of the World Bank.
http://www.worldbank.org/en/publication/wdr2015
INTERVIEW:
Varun Gauri, Co-Director of the World Development Report 2015: Mind,Society, and Behavior
| | |
| --- | --- |
| Day | February 04, 2015(Wed) |
| Place | JICA Ichigaya building |