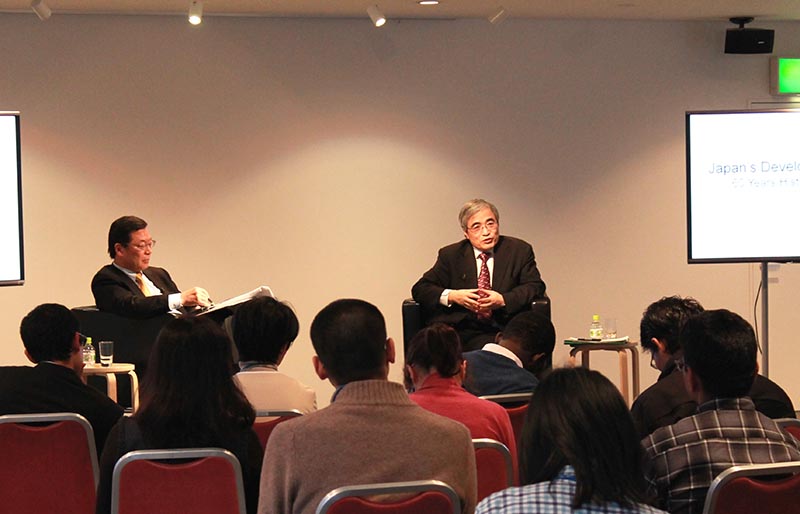 Kazuhiko Takemoto, Director of UNU-IAS(left)、
Hiroshi Kato,JICA Vice President(right)
On February 10, 2015, JICA Vice President Hiroshi Kato gave a lecture at United Nations University (UNU), entitled Japan's Development Cooperation: 60 Years History and Its Prospects. JICA-RI initiated a research to review Japan's Official Development Aid (ODA) in 2014, a milestone year commemorating 60-year anniversary of Japan's ODA. Kato, who leads this project, introduced the historical aspects of Japan's ODA based on the research outcome. Around 60 participants including UNU staff and students, representatives of other UN offices in Tokyo attended the lecture.
Kato gave a retrospective overview of Japan's ODA from the postwar era to the present day as well as the consistency of Japan's ODA: a model that links aid and private investment and focus on physical infrastructure, human resources and institutions. He also explained that Japan has been supporting developing countries in partnership with diversified development partners such as universities and NGOs.
Following Kato's presentation, Kazuhiko Takemoto, Director of the United Nations University Institute for the Advanced Study of Sustainability, commented on Japan's initiatives on donor coordination. The questions from the floor covered a wide range of issues including: JICA's future approach based on the new Development Cooperation Charter, the definition of ODA and data of ODA figures, cooperation with NGOs, and measures against land exploitation and climate change.
| | |
| --- | --- |
| Day | February 10, 2015(Tue) |
| Place | United Nations University |