On February 18, 2015, the International Monetary Fund (IMF) and JICA held a joint high-level conference entitled "Frontier and Developing Asia: Supporting Rapid and Inclusive Growth." The conference brought together ministers, governors of central banks, policy-makers, and researchers from various Asian countries as well as representatives of multilateral development banks to discuss the policies for realization of inclusive and sustainable growth in Asian countries.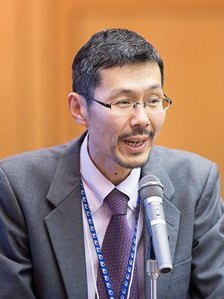 Ken Odajima
The conference featured sessions on fiscal policies, the promotion of small and medium-sized enterprises development, financial policies, and solutions for infrastructure needs. JICA-RI Executive Senior Research Fellow Ken Odajima and Khou Vouthy, Director of the Economic Research and International Cooperation (ERIC) at the National Bank of Cambodia, gave a presentation on their joint research on the dollarization in Cambodia, entitled "Empirical Study on the Promotion of Home Currency in Cambodia" at the session on "Strengthening Capital and Financial Markets."
Dedollarization is one of the common challenges that many Asian countries including Cambodia faces. Both the currency and the banking system were entirely abolished in Cambodia during the Pol Pot regime and the United Nations Transitional Authority in Cambodia (UNTAC) brought a massive quantity of dollars into the country in 1992. As a result, US dollars started to be used in various economic transactions in the country, which has led to dollarization in Cambodia. JICA-RI in partnership with the National Bank of Cambodia has launched surveys to understand behaviors and motivations on the usage of dollar by households, enterprises, and financial institutions. The preliminary findings show that the dollarization is happening in financial sector and in urban cities, while the home currency (the Riel) is commonly used by small and medium-sized enterprises and outside of urban areas. Based on these findings, Odajima explained that promoting the use of home currency, aiming for dedollarization, should be guided by market principles through improving domestic payment system as well as effective currency and exchange policies.
Representatives of the national banks of Laos and Mongolia made comments based on their own countries' experiences of dollarization. Laos, which experienced an increase in dollarization as a result of the Asian financial crisis, has made progress in dedollarization by improving domestic payment system, adjusting foreign currency reserves, and implementation of foreign exchange policies. Mongolia, where the high inflation after foreign exchange rate liberalization in 1993 triggered the dollarization, succeeded in moving towards dedollarization by introducing the law "The use of national currency for transaction in Mongolia" enacted in 2009.
Experiences and challenges faced by participating countries such as Maldives, where dollarization is due to dollar savings among households for securing an access to medical and other services in overseas, were shared at the discussion session. In the discussion, it was pointed out that balanced economic policy considering the advantages of dollarization such as the stabilization in macro economy and mitigating currency risk is important.
| | |
| --- | --- |
| Day | February 18, 2015(Wed) |
| Place | JICA Ichigaya building |