A public forum entitled "Innovating Policies: A New Paradigm of Governance to Activate the Governments' Potential" was held March 27 2015 in Tokyo at the National Graduate Institute for Policy Studies by that institute and the JICA Research Institute.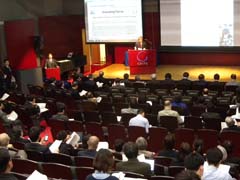 Participants listen to a speaker
In the countries of Southeast Asia, which continue to see smooth socioeconomic development, there is a need to strengthen governance to respond to increasingly complex policy issues. With this in mind, as part of a partnership between JICA-RI and the National Graduate Institute for Policy Studies (GRIPS), the countries of Southeast Asia and Japan have been jointly carrying out research since 2013 on organizing the experiences of organizational and management reform in the public sector.
The purpose of the forum was for leading experts from the participating countries to gather and present the results of their research while searching for the practical wisdom needed to promote the problem-solving capacity of national and local governments.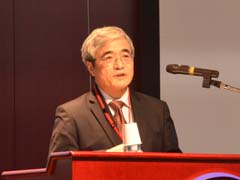 Hiroshi Kato, JICA-RI vice-president
delivers an address
At the forum, after a welcome addresses by Kiyotaka Yokomichi, vice president of GRIPS, and Hiroshi Kato, vice-president of the Japan International Cooperation Agency (JICA), Ikujiro Nonaka, professor emeritus, Hitotsubashi University, gave a keynote presentation entitled "Unleash the Knowledge Potential of Nations, Regions and Community: Co-Creating Values for the Society."
Nonaka said a three-dimensional model, where knowledge is put into practice in a nation: nation, region and community, is needed in public sector management. A good Phronetic leader in practical wisdom is one who can 1) judge goodness and set good objectives, 2) create shared contexts, 3) grasp the essence of particular situations, 4) communicate the essence in a way that everyone can understand, 5) exercise the political power to implement them and 6) foster practical wisdom in others. And such a Phronetic leader should work to put knowledge into practice, Nonaka said. In addition, he said a policy is about co-creating the future and management as a way of life, and public management involves a variety of stakeholders and requires the encouragement of cooperation and coordination.
Alex Brillantes, Commissioner of Higher Education, the Philippines, gave the second keynote presentation. He presented the outcome of two years of research, focusing on leadership and management for speeding up policy innovation.
After the keynote presentations, a panel discussion was held entitled "Reform for Efficiency or Innovation? Overview of Administrative Reform in Asia." Cayetano Paderanga, chairman, Development Academy of the Philippines, talked about reform of the public servant training system in his country. Eko Prasojo, a professor at the University of Indonesia, gave a presentation on examples of administrative reform. Thereafter, Atsuko Kikuchi, the president of the Japan Association for Public Human Resources Development, explained reform of Japan's system of government employment, and a lively exchange of opinions and question and answer session took place.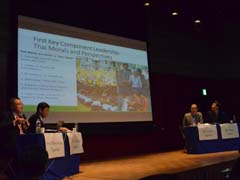 A session entitled "A New Paradigm
of Governance Based on Asian Values"
At a session entitled "A New Paradigm of Governance Based on Asian Values," JICA-RI Director Ichiro Tambo acted as moderator. First, Professor Woothisarn Tanchai, secretary general of King Prajadhipok's Institute, Thailand, gave a presentation on the ideal of public servants based on Thai values such as respect for the royal family and Buddhism. As an example of Japan's experiences, Takeji Takei, a visiting professor at Local Autonomy College, shared a case about a city planning initiative that makes use of regional resources in Tono, Iwate Prefecture. Naoki Ogiwara, director of the Research & Planning Department of the Asian Productivity Organization, explained an initiative underway at the APO in Asia to encourage knowledge creation management. After the presentations, discussions were held on what aspects of Asia's experience with administrative reform can be disseminated to the rest of the world and on issues with applying knowledge creation theory to public institutions.
JICA-RI and GRIPS will continue to compile the research results of participating countries, which is to be published in a book.
<Related Link>
National Graduate Institute For Policy Studies
| | |
| --- | --- |
| Day | March 27, 2015(Fri) |
| Place | GRIPS, Tokyo |