JICA-RI Senior Research Advisor Akio Hosono gave a presentation on integrating small and medium-sized enterprises into the regional and international markets at a workshop on the topic in Viet Nam on April 21-22, 2015.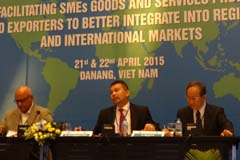 Akio Hosono, JICA-RI senior
research advisor (right)
Asia-Pacific Economic Cooperation's (APEC) dialogue was held in Da Nang and attended by dozens of participants from the public sector, academic institutions and private sector SMEs. They came from ten APEC member economies (Australia, Indonesia, Japan, Malaysia, Mexico, Peru, the Philippines, Russia, Thailand and Viet Nam), as well as the United Kingdom. The event was entitled "Public-Private Dialogue on Facilitating SMEs Goods and Services Providers and Exporters to Better Integrate into Regional and International Market."
Hosono's presentation overviewed economic growth, industrial transformation and international cooperation and their role in facilitating SMEs' integration into regional and international markets. He gave three examples: 1) Government support given to industry in Thailand resulting in an increase in production from 1 million cars in the country in 2005 to over 2.5 million in 2012; 2) SMEs' participation in agriculture and the agro-industry value chain in the Cerrado ecoregion of Brazil; and 3) Chile's salmon industry value chain and industrial cluster, which has made Chile one of the top two exporters of salmon and salmon products in the world.
He concluded that the globalization of supply chains is remarkable and accompanied by changing structure of industries, that a comprehensive approach is needed to facilitate SMEs' integration into regional and international markets and supply chains, and that experiences of international cooperation could give valuable insights, though such knowledge should be adapted to different local contexts.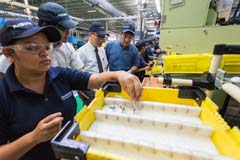 An automobile parts factory in Mexico
(Photo: JICA/Kenshiro Imamura)
"There were many participants who took an interest in how SMEs can integrate themselves into supply chains. And there was also a lot of interest in how JICA would cooperate with that effort. In Asia, JICA has a lot of experience in this area and the sharing of the experiences of Japan and Southeast Asia has been very beneficial to Viet Nam and other countries so far. JICA is currently providing cooperation to Mexico with its automobile industry exports to the United States and its initiatives in Mexico are drawing attention, for example," Hosono said of his presentation.
Hosono also commented on the fact that this event was organized in Da Nang, Viet Nam: "Da Nang is the eastern starting point of the corridor tying the eastern and western parts of the Greater Mekong Subregion, and all lines of the East-West corridor (through Laos and Thailand) to Myanmar are scheduled to open this year. This is a region for which future growth is anticipated, and it is significant that the event is being held in such a location."
APEC is a pro-free-trade forum with 21 Pacific Rim countries as members. The dialogue was initiated by Viet Nam and co-sponsored by Malaysia, Mexico, the Philippines and the Russian Federation. It is part of an initiative by APEC to enhance the global competitiveness of SMEs.
| | |
| --- | --- |
| Day | April 21, 2015(Tue) - April 22, 2015(Wed) |
| Place | Da Nang, Viet Nam |