As the Association of Southeast Asian Nations moves toward economic integration through a common market by the end of 2015, barriers to the movement of skilled workers within the region remain.
JICA-RI Director Ichiro Tambo spoke at a roundtable to develop strategies for overcoming those barriers in Bali, Indonesia, May 11-12, 2015.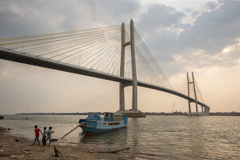 Tsubasa Bridge in Cambodia connects Vietnam, Cambodia and Thailand with a single road
(Photo: JICA/Shinichi Kuno)
Entitled "Achieving Skill Mobility in the ASEAN Economic Community: Challenges, Opportunities, and Policy Implications," it was sponsored by the Asian Development Bank and the Migration Policy Institute.
Between 2005 and 2012, ASEAN member countries signed mutual recognition arrangements to promote labor mobility in six occupations including engineers and doctors. However, because it is difficult to change domestic legal systems and regulations, the agreements have not been substantially put into practice.
The closed roundtable sought to examine and address the technical and political obstacles to labor mobility. In his talk, Tambo outlined the principles of Japan's development assistance, which emphasizes "quality growth." He defined this as growth that is inclusive, sustainable and resilient.
He spoke about a transformation in Cambodia, Laos, Myanmar and Viet Nam during the past two decades in which manufacturing has grown in importance while agriculture has diminished as a share of GDP. This transformation has increased the need for skilled workers and its mobility, he said.
He then talked about how JICA has contributed to increasing physical, institutional and people-to-people connectivity in ASEAN through projects that have included hard and soft infrastructure development, capacity building and human resource development.
Finally, he talked about research JICA-RI is undertaking with regard to remittances in the Philippines and other countries. The research will focus on developing policy options for shifting the way money sent home by overseas workers is used. There is a tendency for the money to be used for consumption. But shifting its use to savings and investment, including in local businesses, could contribute to further development in ASEAN, he said.
| | |
| --- | --- |
| Day | May 11, 2015(Mon) - May 12, 2015(Tue) |
| Place | Bali, Indonesia |