The 16th Annual Conference of the Global Development Network (GDN) was held June 11-13, 2015, in Casablanca, Morocco. GDN was established with the objective of developing research capabilities in and fostering networking among developing countries, and JICA Research Institute serves as the secretariat of GDN Japan, one of the GDN regional networks. The theme of the 16th Annual Conference was "Agriculture for Sustainable Growth: Challenges and Opportunities for a New 'Green Revolution'." JICA-RI Director Ichiro Tambo and Senior Research Adviser (SRA) Akio Hosono represented the institute at the conference, and JICA-RI chaired two sessions.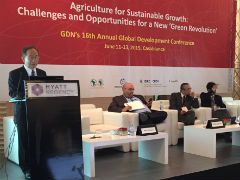 JICA-RI SRA Akio Hosono
makes a presentation
JICA-RI SRA Akio Hosono spoke at the session entitled "The Possibility of Inclusive Business in Agriculture and Nutrition: Introducing Good Practices of BOP Business" held on June 11, and highlighted efforts of Yakult Co., Ltd., to expand the Yakult Ladies system in developing countries and the "One Village, One Product" movement in Malawi as examples of inclusive business. He emphasized that a comprehensive approach is needed to include BOP not only on the demand side as consumers but also on the supply side as producers in inclusive business.
Sahba Sobhani, Acting Proramme Manager, Business Call to Action (BCtA) of UNDP touched on how to get involved with the economic life of the BOP segment through private sector activities, from the viewpoint of inclusive business as a means to achieve the Sustainable Development Goals (SDGs) for 2015 and beyond, after the deadline for achieving the Millennium Development Goals (MDGs). He introduced dry fruits production by a Turkish company, a participating company in Business Call to Action (BCtA) at UNDP.
Yasuhiko Toride, associate general manager of the R&D Planning Department, Ajinomoto Co. Inc., was also a panelist, and he introduced a project to improve nutrition implemented by Ajinomoto in Ghana to emphasize the importance of (1) product development, (2) delivery system development, (3) gaining understanding from local people and (4) public-private partnerships in sustainable social business. Earnest discussion was hosted by moderator Hiroshi Sato of the Institute of Developing Economies, Japan External Trade Organization.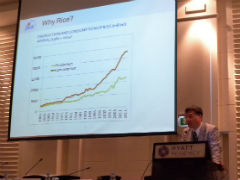 JICA-RI Director Ichiro Tambo
serves as a moderator
Director Tambo chaired the "Toward Rice Green Revolution in Sub-Saharan Africa" session held on June 12, in which discussions were held on the opportunities for a rice-centered green revolution in Africa, focusing on the Coalition for African Rice Development (CARD) initiative.
CARD is an international initiative established in 2008 jointly by JICA, the Alliance for a Green Revolution in Africa (AGRA) and others in response to the soaring demand for rice in Africa, and it aims at doubling African rice production to 28 million tons in the 23 CARD member countries within the ten years ending in 2018.
Director Tambo opened the session with an explanation on why CARD is aiming at doubling the production of rice. Among the points covered were that production is failing to keep pace with growing demand, that the environment is favorable for cropping, and that if a rice value chain can be developed, such a value chain can also be utilized for other crops. Professor Keijiro Otsuka of the National Graduate Institute for Policy Studies (GRIPS) shared his quantitative analysis findings on CARD-related projects supported by JICA.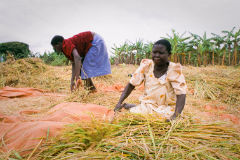 Ugandan farmers harvesting rice
(Photo: JICA/Osamu Funao)
Among the presentations given were on the role AGRA has played in the CARD initiative by AGRA's former president Namanga Ngongi, on the significance of the CARD initiative in the structural reform in agriculture from the perspective of structural reform of Africa's economy by Chief Economist Yaw Ansu of African Center for Economic Transformation, and on Green Revolution 2.0 and public policy from a wide perspective by Professor Prabhu Pingali of Cornell University. Otsuka concluded the session by saying that, "A rice-centered green revolution in Sub-Saharan Africa is possible."
On the last day of the conference, a ceremony was held where Director Tambo presented the 2015 Japanese Awards for Global Development, funded by the Japanese government. The First Prize of the 2015 Japanese Awards for Most Innovative Development Project went to an Indian project promoting the organization and empowerment of women to assist poor women farmers in rural India.
| | |
| --- | --- |
| Day | June 11, 2015(Thu) - June 13, 2015(Sat) |
| Place | Casablanca, Morocco |