On June 9 and 10, 2015, the Asia Foundation held a symposium -"China's Overseas Development Policy in a World 'Beyond Aid'" - in Bangkok, Thailand. Approximately 40 researchers and practitioners from various countries including China and international organizations took part in the symposium aimed at reaching a deeper understanding of foreign aid and other development finance extended by an increasingly influential China.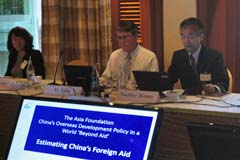 JICA-RI Deputy Director Naohiro Kitano
gives a presentation (right)
Attending the symposium from the JICA Research Institute were Deputy Director Naohiro Kitano and Research Assistant Yukinori Harada. Kitano was one of the speakers at the "Measuring Chinese Aid: Approaches and Findings" session, and he presented a summary of the working paper he co-authored with Harada, entitled "Estimating China's Foreign Aid 2001-2013." He also spoke about how recipient countries acknowledge and utilize China's foreign aid and other development finance and future research issues. There are limited disclosed figures or research data on the amount of China's aid, so Kitano's presentation attracted considerable interest.
Discussion at the symposium also focused on China's foreign aid policies, moves relating to the Asian Infrastructure Investment Bank (AIIB), and case studies of Chinese aid.
| | |
| --- | --- |
| Day | June 09, 2015(Tue) - June 10, 2015(Wed) |
| Place | Bangkok, Thailand |