Eminent development economist Sakiko Fukuda-Parr is in Tokyo this summer as a JICA Research Institute Distinguished Fellow, investigating the values Japan says underlie its development assistance.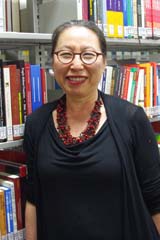 Professor Sakiko Fukuda-Parr
In her research project, she aims to show that the view of development assistance as cooperative and reciprocal is more effective and beneficial than the view that ODA is charity, held by traditional Western donors. Japan shares the philosophy of cooperative, reciprocal assistance with emerging donors such as China and India, she said.
"The fundamental problem with charity is power. As anthropologist Marcel Mauss pointed out, the act of giving creates a social relationship with an expectation of reciprocity. And Marshall Sahlins extended this to show that charitable giving creates a hierarchical relationship between the giver and recipient in which the giver foregoes reciprocity and the recipient becomes subaltern. And so however much you talk about partnership the recipient is powerless," she said.
Fukuda-Parr is a professor in the Graduate Program in International Affairs at the New School in New York City. She was at JICA-RI in Tokyo from May 15 to June 13, returned July 11 and will continue her fellowship in Japan through August 7.
In her work at JICA-RI, she will compare the "normative framing" of Japanese development aid with that of the other donors on the OECD Development Assistance Committee (DAC) on the one hand and emerging donors such as China and Brazil on the other.
By normative framing, she said, she means "the values that underpin a country's aid philosophy. Normative framing justifies the choice of instruments (such as loans) and the development priorities that are promoted (such as investments in economic and social infrastructure)."
Through literature research and interviews with government officials, policymakers, NGOs, academics and others, Fukuda-Parr is examining questions including why Japan is criticized in the DAC, why Japan's normative influence is smaller than its financial contribution and why Japan is unable to wield more influence in international development policy.
Japan's ODA philosophy and values overlap significantly with those of the emerging donors, she said.
"Although Japanese aid also shares values with the DAC donors, it fits somewhere in between. And Japan has always been a bit of an outlier among the DAC donors."
Fukuda-Parr was born in Tokyo, then moved to London, Washington, D.C., and Manila as a child in connection with her father's work for the Japanese Ministry of Finance. She studied in Britain, receiving a bachelor's degree from the University of Cambridge and a master's degrees from the University of Sussex, and also earned a master's degree at Tufts University in the U.S. Today she lives in New York.
Fukuda-Parr worked at the World Bank as an economist with a focus on agriculture and rural development in the Middle East and North Africa Region from 1976 to 1979. She served in assignments at the United Nations Development Programme from 1980 to 1994, including chief of West Africa Division, Principal Economist Africa Region, Deputy Resident Representative Burundi and Technical Adviser. From 1995 to 2004 she was the lead author of the Human Development Report at the United Nations Development Programme. She was a research fellow at the Belfer Center for Science, Technology and International Affairs, Kennedy School of Government, Harvard University, from 2004 until 2006, when she assumed her current position at The New School. She currently serves on the UN Committee on Development Policy. Her research interests focus on two areas: international development goals, and economic and social rights. She has authored dozens of articles on poverty, inequality, gender and human rights. Her recent publications include "Fulfilling Social and Economic Rights" and "MDGs, Capabilities and Human Rights: The Power of Numbers to Shape Agendas."
This is Fukuda-Parr's first extended stay in Japan since she was 10 and she looks forward to spending time with her mother, she said.