JICA Research Institute held an initial authors' workshop to kick off the research project "A Study on Urban Air Quality Improvement in Asia" in Tokyo, on Aug. 6, 2015.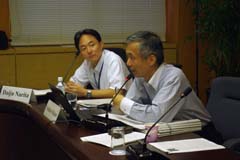 Deputy Director Kitano (right) and
Research Fellow Narita
speak at the workshop
Deteriorating air quality caused by rapid development has become a serious problem in many cities in Asia. The research will focus on particulate matter, or PM2.5, which refers to suspended particulate matter up to 2.5 micrometers (one one-thousandth of 2.5 mm) in diameter. These particulates potentially cause respiratory disease and circulatory disease. Despite the need to adopt measures to counter them, in determining the actual state of PM2.5 emissions, generation and airborne concentration, to date, no policy research specializing in PM2.5 has been carried out in the Asian region. For this reason, JICA-RI Director Ichiro Tambo explained that this project is "a highly significant study that focuses on a new issue common to all of Asia."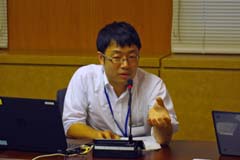 Research Fellow Yamada talks
about the direction of the research
The research has two components: one year of PM2.5 observations in Bangkok, Thailand; and policy research in each of the countries being studied. Observations in Thailand will be the responsibility of the Asian Institute of Technology (AIT), Thailand, and the Asia Center for Air Pollution Research (ACAP), Japan. They will begin from September 2015 for one year. The first observation of this kind in Thailand is expected to provide data to show seasonal changes and the kinds of substances that constitute PM2.5, which will be then analyzed to examine counter measures.
The policy research will study and validate past and current measures adopted by each country. It will cover Japan, China, South Korea and Mongolia. Also, regarding Mexico, it will bring together the findings of research conducted under the Science and Technology Research Partnership for Sustainable Development. The research will look into the experiences and learnings of Europe, which tackled PM2.5 from a relatively early stage. The research will also consider the issues from the perspective of policies to mitigate urban air pollution through smart-city initiatives, and energy policies and air pollution in Asian cities.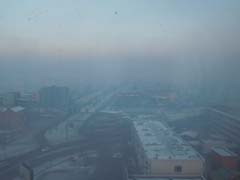 Severe air pollution over
Ulaanbaatar,Mongolia (2010)
The authors include research fellows at JICA-RI, staff at the JICA Global Environment Department, researchers in Japan, and experts from China, South Korea, and other Asian countries. At the workshop, JICA-RI Deputy Director Naohiro Kitano gave an outline of the research, while participants discussed their research efforts to date, and their planned research framework and design. From these discussions, they concluded to have two research directions: the scientific data analysis and the policy research. Researchers will write working papers summarizing their research in their respective fields of expertise.
| | |
| --- | --- |
| Day | August 06, 2015(Thu) |
| Place | JICA Ichigaya building |