On Oct. 2, 2015, JICA Research Institute held a seminar at the JICA Ichigaya Building entitled "Achieving Skill Mobility in the ASEAN Economic Community: Challenges, Opportunities and Policy Implications."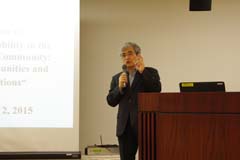 JICA Vice President Hiroshi Kato delivers
an opening address
ASEAN, which is made up of 10 countries in Southeast Asia, is scheduled to form an ASEAN Economic Community (AEC) by the end of 2015. As it works to achieve that goal, it has had great success in removing obstacles to the movement of capital and goods. However, the mobility of human capital, in particular the free movement of highly skilled labor, is behind schedule. As a joint research project, the Asian Development Bank and the independent think tank Migration Policy Institute in Washington, D.C., have held conferences and research activities among stakeholders to understand and discuss the current situation and obstacles regarding the free movement of skilled workers.
For many years, JICA has continually engaged in human resource development in the countries of ASEAN, including tertiary education and occupational training. Against this backdrop, Ichiro Tambo, director of the JICA Research Institute, participated in the Roundtable Conference of High-Level Experts on "Achieving Skill Mobility in the ASEAN Economic Community: Challenges, Opportunities and Policy Implications" sponsored by the ADB and the MPI on the island of Bali, Indonesia, May 11-12, 2015. JICA Vice President Hiroshi Kato attended the "Bali Conference on Skill Mobility in ASEAN: Progressing Towards the ASEAN Economic Community and Charting a Post 2015 Vision at the National Level," also held in Bali, Sept. 28-29.
At the September conference, the ADB and the MPI reported on the results of the research they jointly conducted on skilled labor migration in the region. The participants discussed policies to promote skill mobility and the promotion of Mutual Recognition Arrangements (MRA) for technical qualifications, as well as obstacles to their smooth implementation. Also, there was extensive debate on the need to involve various stakeholders such as the private sector and on the roles of higher education and occupational training.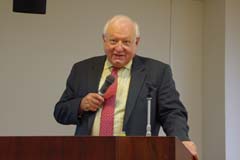 Demetrios G.Papademetriou of Migration
Policy Institute gives a presentation
ADB and MPI, based on the research and discussion, published the issue paper "Achieving Skill Mobility in the ASEAN Economic Community: Challenges, Opportunities and Policy Implications." The Japanese version of that paper was recently completed and this seminar was held to share its findings. Demetrios G. Papademetriou (MPI), Guntur Sugiyarto (ADB) and Dovelyn Rannveig Mendoza (MPI) - the principal authors of the issue paper - explained its main points.
The seminar began with an opening address by JICA Vice President Hiroshi Kato. He said that mobility of skilled labor is an important issue for the overall economic growth of ASEAN, as middle-income countries must overcome the so-called middle-income trap, and low-income countries must become middle-income countries.
Kato also pointed out that the movement of skilled labor is important for Japan as well. He said Japan cannot be self-sufficient in necessary skills and knowledge and ASEAN is an important source of skill for Japan's future. He pointed out that skill mobility will be important to Japan's future given that ASEAN and Japan have strong economic ties.
In the presentations on the issue paper, Papademetriou pointed out the importance of training skilled workers. He said investors both domestic and foreign look to the availability of well-trained and educated people and a market before they make investments, and stated further that when you have a better educated work force that builds the middle class, they are your consumers.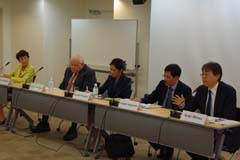 Panelists debate the future outlook
and issues
At the same time, he listed the following as impediments to the mobility of skilled labor: 1. complex processes for recognizing qualifications in MRA, 2. national level impediments such as constitutional provisions that specify that certain professions are limited to nationals or complex and vague conditions for acquiring a work visa, and 3. a lot of professionals who have no interest in migrating within the region because of cultural, language and socioeconomic differences. He emphasized that government should take a longer-term view and invest in national educational and training systems that allow workers to acquire skills that meet ASEAN common standards.
Mendoza talked about human migration patterns in ASEAN and the situation of the mobility of skilled labor, found in joint research by MPI and ADB. Sugiyarto explained the economic benefits brought by skilled labor mobility within the ASEAN region.
After the presentations by speakers from ADB and MPI, the panel discussion was conducted with Hitotsubashi University professor emeritus Yoko Ishikura as a moderator, the three presenters and JICA Chief Economist Koki Hirota to debate the future outlook and issues.
In the discussion, Hirota said the mobility of people within ASEAN Economic Community (AEC) will bring reciprocal benefits to each country, so it is very significant. Moreover, he said industrial clusters increase employment opportunities for particular professionals in each country, thus it will become more and more important to coordinate with industry. He also touched upon AUN/SEED-Net, mainly supported by the JICA, which aims to build academic networking among universities in ASEAN and Japan, to raise the educational level, and to strengthen the linkage between industrial sectors and universities.
| | |
| --- | --- |
| Day | October 02, 2015(Fri) |
| Place | JICA Ichigaya building |