A launch event for the book "Southeast Asian Muslims in the Era of Globalization" was held Sept. 25 in the JICA Ichigaya Building in Tokyo.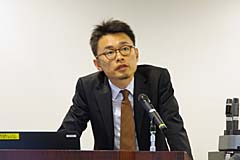 Ken Miichi, associate professor,
Iwate Prefectural University
The event featured talks by the editors of the book, Ken Miichi, associate professor, Iwate Prefectural University, and Omar Farouk, professor emeritus, Hiroshima City University, as well as JICA Research Institute Distinguished Fellow and former ASEAN Secretary-General Surin Pitsuwan.
The book is the culmination of the JICA-RI research project "Locating Islam in Southeast Asia: Muslim Response to Globalization," in which researchers from Southeast Asia and Japan researched how Muslims in Southeast Asia are responding to globalization.
Miichi, the first speaker, gave an overview of the book, which consists of 12 chapters, including an introduction and conclusion by him and Farouk. The topics of the chapters in between include education, globalization, democratization, the Mindanao peace process, violence and free trade. The countries covered include Thailand, Indonesia, Malaysia, the Philippines and Cambodia.
"I want to emphasize the importance of regional and area studies," Miichi said, noting that local context is key to understanding Islam in its various forms.
Next Farouk spoke about "The impact of Globalization on the Muslims in Southeast Asia," focusing on Cambodia in particular. He said prejudices prevent people from seeing Islam as it truly is. For example, many believe Islam to be incompatible with modernity and globalism and that it is about violence, incompatibility, inability to integrate and inability to harmonize with others.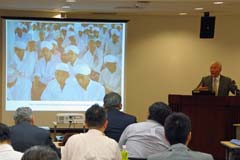 Omar Farouk, professor emeritus,
Hiroshima City University
"The truth is there is so much that we do not know about Muslims and we have come up with grand conclusions about what they are and what Islam should be and so on and so forth. I think that's the biggest problem. So to resolve dilemmas, difficulties, tensions that exist, the first step surely has to be the elimination of the prejudices," he said.
He proceeded to attempt to eliminate such prejudices through a series of slides from his some 20 years of researching Islam in Cambodia. One showed imams "discussing issues in a very democratic manner. Very open. Something that you don't see in many Islamic countries." Others illustrated the eagerness with which Muslim students in the country seek out opportunities to learn and study, including in Japan. Yet another showed entrepreneurial Muslim women making bridal dresses to sell. Some of his photos showed the many mosques in the country. Few people knew there were mosques in Cambodia in 1995, but today there are almost 900, he said.
The last headline speaker was Surin, whose theme was "Where should Muslim society be heading for?"
Surin said in growing ASEAN countries, almost half of the 600 million plus population is Muslim.
He said the distinguishing characteristics of Southeast Asian Islam go beyond differences in race, ethnicity and sociopolitical system - that they are adoption, adaptation and integration. He emphasized that because of these characteristics, Southeast Asia was able to avoid falling into the violence and confusion of the sort seen in the Arab Spring. He mentioned Southeast Asia's investment in people through such things as health care and education, that it has continued to improve infrastructure and that it has developed its science, technology and industry. He then explained that these are the reasons that compared to the Middle East, Southeast Asia has had little political and economic turmoil.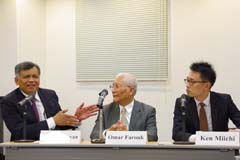 Panelists answer questions from the floor
Surin said that Japan, in serving as a model of success, rationality, science, technology, innovation and social order and working to spread those values in Southeast Asia, is doing a great service not only to itself but also to the rest of the world by helping prevent violence, fundamentalism and jihadist approaches from taking root in the Malacca Straits, for example.
"Thank you JICA, thank you Japan," he concluded.
During the question and answer session, someone asked whether JICA would consider, as an aspect of its South-South cooperation, for example using lessons from Southeast Asia in Pakistan and other areas. Surin responded by saying that as he suggested during a visit to Pakistan last year, Japan has the management skills to improve efficiency and effectiveness in the fields of science and technology and industrial development, and he hopes JICA will contribute by sharing Japan's experiences with other countries
"I also think it would be helpful if JICA, with its expertise in creating and managing projects for development, could also help transfer that expertise to the initiatives that are already taking place within the Muslim world. For example, the Islamic Development Bank in Jeddah (Saudi Arabia) is helping many of these countries building infrastructure, building schools, building health stations. But the management of those projects is not as effective. So it is not only South-South, but initiatives from JICA can be re-calibrated so as to help those who want to help themselves managing that help more effectively," he added.
| | |
| --- | --- |
| Day | September 25, 2015(Fri) |
| Place | JICA Ichigaya building |