The Emerging Markets Forum (EMF) and the Emerging Markets Institute (EMI) of Beijing Normal University (BNU) jointly hosted the "Beijing Forum for Emerging Markets 2015" on October 19 and 20, 2015, in Beijing, China. JICA Research Institute Deputy Director Naohiro Kitano attended and gave a presentation on urbanization and international cooperation.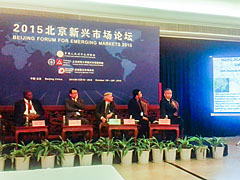 Deputy Director Naohiro Kitano gives
a presentation (right)
It is expected that emerging markets will constitute one-half to two-thirds of the global economy by 2050. On the other hand, emerging markets are facing a variety of issues, such as sluggish growth, depreciated currency and an increased employment crunch. The Forum aimed to bring experts and leaders from around the world together to exchange opinions and discuss solutions in light of these circumstances. EMF has held nine meetings on the theme of emerging markets so far, and this was the first time in China.
Approximately 200 people attended the Forum, including former president of Peru Alejandro Toledo, former prime minister of Bangladesh Fakhruddin Ahmed, former prime minister of Kenya Raila Odinga and former prime minister of Kyrgyzstan Djoomart Otorbaev.
Kitano participated in the session "Urbanization in China and Emerging Market Countries: Experience and Progress." He joined discussions covering a wide range of issues such as the urbanization and its financing, and the challenges of urbanization in China and Africa.
In the discussion, Kitano presented models of international cooperation in urbanization. He explained examples of such corporations: a China's port and new urban development in which ODA served as the catalysis of development, joint research on China's urbanization policy between the National Development and Reform Commission and JICA, and subway construction in India with improved mobility, safety and comfort.
The Forum included three other sessions, providing the opportunity to exchange opinions from a variety of perspectives on topics such as the impact of slowing growth in China and emerging countries on the income gap and the impact of China's foreign direct investment on emerging countries.
| | |
| --- | --- |
| Day | October 19, 2015(Mon) - October 20, 2015(Tue) |
| Place | Beijing, China |