JICA Research Institute Deputy Director Naohiro Kitano spoke about JICA's cooperation to strengthen the connectivity of ASEAN and its relevance to the Balkans at a conference in Belgrade, Serbia, Oct. 24 2015.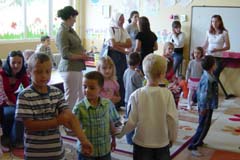 Bosnian Muslim and Bosnian Serb children
attend a JICA-assisted kindergarden in
Srebrenica, Bosnia and Herzegovina
"Future of the World between Globalization and Regionalization" was the 11th annual conference of the European Center for Peace and Development.
Kitano and Toshiya Abe, resident representative of the JICA Balkan Office, were speakers at the Fourth Plenary session, "Comparisons in the Social Economic Developments Between ASEAN and the Balkan Regions," at which Akio Kawato, former Japanese ambassador to Uzbekistan, served as moderator. Some 100 people participated, including government officials and scholars from Balkan and other European countries. The purpose of the session was to share with the Balkans information on Japan's cooperation toward ASEAN economic integration.
Kitano focused on the topic of connectivity, which he said is key to realizing continued economic growth and bridging the development gap in ASEAN. He cited three aspects of connectivity JICA is working to build in the region: physical, institutional and people-to-people. An example of physical connectivity, he cited the East-West and Southern Economic Corridor, for which JICA has helped build ports, roads and bridges. He gave the ASEAN Coordinating Centre for Humanitarian Assistance, which is located in Jakarta, Indonesia, and serves as the regional hub for disaster monitoring and analysis, as an example of institutional connectivity. And for people-to-people connectivity, he cited the Asia-Pacific Development Center on Disability established in Bangkok by the Thai government and JICA. The center conducts training programs and workshops on disability issues for the region.
Abe talked about Bosnia and Herzegovina peace-building support projects carried out as JICA initiatives from the perspective of human security and cooperation in the region.
The conference covered varied themes included politics, economics, society, human rights issues, science and technology, development and environmental issues. However, many participants discussed the following urgent issues facing the European Union: 1. the status, issues and prospects for the integration of the Balkans into the European Union; 2. the outlook for the European economy after the Greek crisis; 3. refugee and immigration issues; and 4. security related issues.
At this conference, high interest was shown during the question and answer session after JICA's presentations to share its expertise on Asia.
The European Center for Peace and Development University for Peace was wstablished by a United Nations resolution in 1983. Its main activities consist of education (master's and doctorate degree courses), researches related to peace studies and development studies, holding seminars and publishing.
The keynote speakers were Kawato; James Mancham, the first president of the Seychelles; and Erhard Busek, former vice-chancellor of Austria.
| | |
| --- | --- |
| Day | October 24, 2015(Sat) |
| Place | Belgrade, Serbia |