A Green Revolution for rice in Sub-Saharan Africa is possible if sufficient resources are invested in training and extension, audience members were told at a public launch event for the book "In Pursuit of an African Green Revolution: Views from Rice and Maize Farmers' Fields" at the JICA Ichigaya Building in Tokyo on Oct. 22, 2015.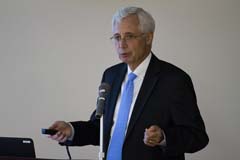 Donald F. Larson, a senior economist
in the Development Research Group
at the World Bank
This book is based on the findings of the JICA Research Institute research project "the empirical analysis on expanding rice production in Sub Sahara Africa" led by Keijiro Otsuka, a professor of development economics at the National Graduate Institute for Policy Studies (GRIPS), and research on African maize cultivation by Donald F. Larson, a senior economist in the Development Research Group at the World Bank. It will be published in November.
Beginning in the late 1960s, a Green Revolution swept Asia, transforming agriculture by dramatically increasing cereal yields through the use of new varieties, fertilizer, expanded irrigation and improved management practices.
At the event, Otsuka and Larson, who edited the book, discussed how attempts to replicate that revolution in Sub-Saharan Africa have had mixed results.
Larson spoke first, giving background on the state of attempts to apply the Asian Green Revolution strategy in Sub-Saharan Africa. The strategy is a standard component of the efforts of governments and donors in Africa, he said.
"I'll talk about whether it's working or not and the short answer is yes for rice, and for maize, less so."
The Asian strategy consists of a focus on smallholder farms, staple crops, modern varieties (usually new, high-yielding seeds) and improved management practices.
Larson said the goal of the strategy is to achieve a virtuous cycle in which agricultural productivity gains on small farms lead to higher rural incomes, rural poverty falls, investments in education, vocational training and physical capital are accelerated, people leave agriculture for higher-paying employment, food prices fall and lower food prices help reduce urban poverty. As economies mature, more people leave the agriculture sector to go to higher-income jobs. In that process, productivity goes up in both sectors and the income gap closes.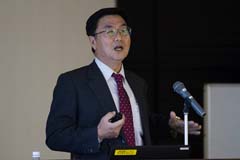 Keijiro Otsuka, a professor of
development economics at the National
Graduate Institute for Policy Studies
This strategy transformed Asia, but has not worked in Africa. Though technology is increasing yields of rice in an increasing number of places in Africa, the same cannot be said of maize.
Why has it not yet succeeded in Africa? In Asia, rice and wheat make up most of the diet and most of production. In Africa, Larson said, the diet is more mixed, so a Green Revolution would have to cover many commodities. This complicates the task of developing new varieties and delivering appropriate extension services. Also, Africa has much less irrigation than Asia.
Otsuka was the speaker for the second half, addressing the content of the book. He noted that it covers the situation of rice production in Mozambique, Tanzania, Uganda, Ghana and Senegal, with an emphasis on management practices of rice cultivation. The book also covers maize farming.
Otsuka offered three hypotheses on why a rice Green Revolution has not yet taken place in Sub-Saharan Africa: 1. It has already taken place in irrigated areas and some rain-fed areas where rice production management training has been offered. 2. It has not taken place on a large scale because of a failure to transfer Asian technology to rain-fed areas, which account for 85 percent of the rice cultivation area in Sub-Saharan Africa. 3. In addition to improved seeds and fertilizer, improved management practices (including bunding, leveling, straight-row planting and proper timing of transplanting) are critical for productivity growth, but this is not properly recognized.
Regarding maize, he contrasted Kenya and Uganda. In Kenya farmers grow Napier grass, stall-feed dairy cows, fertilize maize fields with the manure, intercrop and use hybrid maize and chemical fertilizer.
"In that sense, the farming system in Kenya incorporates the essence of the Asian Green Revolution, the British Agricultural Revolution and the Indian White Revolution which uses high-yielding varieties and chemical fertilizer, stall-fed cows and productive dairy cows," he said.
In Uganda, those techniques are hardly used at all, and the result is that the maize yield is nearly half that in Kenya.
He concluded by noting that Sub-Saharan Africa is seeing strikingly high lowland rice yields in many areas by adopting Asian Green Revolution technologies and practices. In these areas, a rice Green Revolution has been taking place, but it must be scaled up. However, high maize yields are rarely seen in Sub-Saharan Africa, he said. The main conclusion of the JICA-RI study, he said, is that Green Revolution technology is not only "seed and fertilizer intensive," but also "management intensive." A second conclusion was that if sufficient resources are put into management training programs and extension, a rice Green Revolution is possible in Sub-Saharan Africa. However, the optimum system for farming maize in the region is not yet known, so more scientific research is needed before extension would be effective.
During the question and answer session, the speakers were asked why Africa needs the Asian model. Otsuka replied that learning from other countries is what has allowed Japan and other East Asian countries to experience remarkable growth.
| | |
| --- | --- |
| Day | October 22, 2015(Thu) |
| Place | JICA Ichigaya building |