JICA Research Institute Director Ichiro Tambo gave the keynote speech at the international symposium "Why 'Quality'Matters in International Agriculture Research."
The symposium was hosted by the Japan International Research Center for Agricultural Sciences (JIRCAS) on October 28, 2015, at the U Thant International Conference Hall in Tokyo.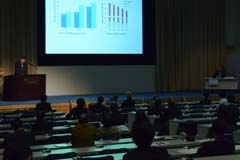 JICA-RI Director Tambo
gives a keynote speech
Each year, JIRCAS hosts an international symposium for researchers from public organizations, universities and international research institutes in developing regions. "Quality" was the key word for this year's symposium. The event covered a wide range of discussions on "Quality Growth," which was a priority issue both in the "Development Cooperation Charter" established by Japan in February 2015, and the "Sustainable Development Goals (SDGs)" adopted at the United Nations Summit in September.
In his keynote lecture on why the quality of growth matters, Tambo pointed out some remaining challenges. "There are still more than one billion people living in extreme poverty and domestic and global economic disparity is widening. Further, development problems are increasingly complex and global." Tambo addressed the differences between the SDGs and the Millennium Development Goals (MDGs), which had a deadline for achievement in 2015. He explained that not only developing countries, but all U.N. member states had pledged their commitment to achieving 17 SDGs and 169 targets by 2030.
Tambo underlined the importance of three aspects included in the Development Cooperation Charter-"inclusiveness," "sustainability" and "resilience"—which, along with innovation, are concepts vital to achievement of "Quality Growth," and presented some examples of JICA's such cooperation.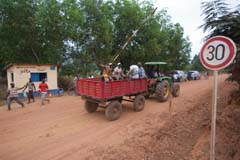 A JICA-assisted feeder road
in the Democratic Republic of the Congo
(Photo: JICA/Shinichi Kuno)
Examples included rehabilitation of feeder roads in the Democratic Republic of the Congo (inclusiveness), agricultural development of Brazil's tropical savanna Cerrado region (sustainability), seamless cooperation in the aftermath of Typhoon Yolanda, which hit the Philippines in 2013, ranging from emergency aid to disaster recovery and formulation of a restoration plan (resilience) and other projects. Another example of comprehensive achievement of these concepts, along with innovation, is the automobile industry in the industrial zone along Thailand's eastern seaboard. In 1995, Thailand's annual automobile exports were less than half a billion U.S. dollars, which had increased to 28 billion U.S. dollars by 2008.
Tambo explained the relationship between "Quality" and "Quantity."
"It is not about a trade-off between quantity and quality. We must aim for a balance of both quantity and quality. The Development Cooperation Charter advocates "Quality Growth" that maintains growth and quality, and poverty eradication through such growth. Theorizing "Quality Growth" is now an important research topic for our institute."
The Symposium also provided sessions on themes such as "Researches for climate-resilient and sustainable agriculture," "Approaches to enhance stable food production and consumption in Africa" and "Evaluation of the various uses of indigenous resources and establishment of value chains in Asia."
| | |
| --- | --- |
| Day | October 28, 2015(Wed) |
| Place | U Thant International Conference Hall, Tokyo |