The Emerging Markets Forum 2015 Global Meeting, where high-level leaders discussed issues facing emerging markets, was held Nov. 3-5, 2015, in Tokyo.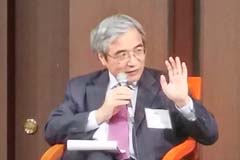 JICA Vice President Hiroshi Kato
JICA Vice President Hiroshi Kato and University of Tokyo professor Akihiko Tanaka (former president of JICA) led sessions on "food productivity and security" and "urbanization."
The Emerging Markets Forum (EMF), based in Washington, D.C., has been holding annual meetings since 2005 with the goals of forecasting long-term economic growth through 2050, and based on these forecasts, presenting concrete policies and corporate measures. This year's annual meeting, the 10th, hosted by Hiroshi Watanabe, governor and CEO of the Japan Bank for International Cooperation (JBIC), brought together some 120 experts and opinion leaders from politics, academia and industry in various countries. A debate took place on the predicted impacts of 10 megatrends* on the world economy in 2050, based on the nine reports that make up "Global Emerging Market Economies in 2050" produced by the EMF. JICA collaborated on the production of these nine reports.
During the food productivity and security session chaired by Kato, the discussion covered genetic engineering techniques and improved agricultural management capacity needed to increase crop production. The discussion also covered infrastructure development, free trade systems, and the connection between a transformation in the economic structure and food security, given that challenges in agriculture affect other sectors.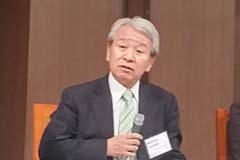 Professor Akihiko Tanaka
During the urbanization session chaired by Tanaka, the following issues were raised as urban planning measures to continue sustainable growth: governance reforms to improve vertical divisions by sector and the centralization of budgeting power, housing to the poor to cope with disparities, and countermeasures to environmental problems and climate change. Panelists talked about some cases such as Manila coping with excessive population density and the dynamics of public-private partnerships. The difficulty that the private sector and government would face when large-scale, long-term projects are carried out was also noted.
Kato spoke at the closing session on the final day. To ensure that the constructive and practical discussion will be reflected in the policies and practices of various countries, it will be necessary to pressure their leaders and business managers, he said.
* 10 megatrends: 1. Population trends, 2. Urbanization, 3. International trade, 4. Financial globalization, 5. Transformation of the global economy, 6. Growth of the middle class, 7. Natural resources, 8. Technological breakthroughs, 9. Climate change, 10. Innovation in communications technology
| | |
| --- | --- |
| Day | November 03, 2015(Tue) - November 05, 2015(Thu) |
| Place | Tokyo, Japan |