The JICA Research Institute hosted a seminar on inclusive education on October 6, 2015, in Ulaanbaatar, Mongolia. The seminar brought together about 50 participants, including policymakers and practitioners of education in Mongolia to discuss future policies for inclusive education. JICA-RI Visiting Fellow Kazuo Kuroda (professor of Waseda University) and JICA-RI Research Fellow Yuriko Kameyama made presentations to share their research results.
Inclusive education is a process that involves the transformation of schools and other centers of learning to cater to all children - including boys and girls, students from ethnic and linguistic minorities, rural populations, those affected by HIV and AIDS, and those with disabilities and difficulties in learning - and to provide learning opportunities for all youth and adults as well.*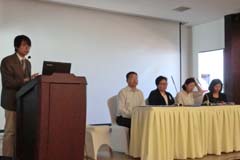 JICA-RI Visiting Fellow Kuroda (left)
and Research Fellow Kameyama(right)
JICA-RI has been conducting research on inclusive education in Mongolia, Cambodia and Nepal as part of its "Disabilities and Education" research project. The seminar included a report on the results of analysis of a survey conducted in Mongolia in November and December 2014, in which researchers received 1,771 responses. These included 57 school principals and school social workers, 625 school teachers, 502 parents/guardians of children with disabilities, 437 parents/guardians of children without disabilities and 150 parents/guardians of children with disabilities who had given up on attending school.
Baavgai Nasanbayar, director of the Department of Strategic Policy and Planning, Ministry of Education, Culture and Science, Mongolia, gave the seminar's opening address. Next, Kazuo Kuroda explained the purpose of the study: "First, to analyze the assessment of a variety of forms of education, including inclusive education both from the perspectives of demand-side actors (parents/guardians, students/children) and the supply-side actors (principals, school social workers, teachers). Second, to understand the current circumstances of children with disabilities excluded from school education. Finally, to make recommendations on appropriate education system based on the analysis." Kuroda also talked about the benefits of inclusive education as well as classroom reality which is often far from inclusive education.
Yuriko Kameyama followed with a presentation of the factors hindering quality education for children with disabilities, based on the results of the study. "Significant obstacles for teachers, parents and guardians of school children are school budgets, teachers' allowances and other financial factors, as well as school facilities, supplies and other material factors. Meanwhile, to parents and guardians of children not attending school, insufficient understanding of children with disabilities in schools is hindering attendance." Further, creating opportunities for teacher training, preparing means of commuting to school and other measures are required to eliminate these obstacles and achieve quality education for children with disabilities.
A discussion was held after the first session. Panelist Dandii Odgerel, a lecturer at the Mongolian State University of Education, said "Although from a global perspective it may seem that inclusive education is beneficial to many children and students, it is not realistic in Mongolia." She also added that a different approach may be more feasible in Mongolia. Kimiko Takahashi of the NGO "Sujatashand," a provider of home-education to children with disabilities in Mongolia, described her own activities. "The focus is on temporary care for children not attending the lower grades of elementary school, but ultimately we aim to have children with disabilities learn at school."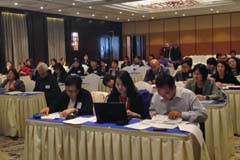 Participants of the seminar
During the Q&A session, Kameyama responded to a question about what should be the top priority in future efforts. "In 2003, the Mongolian government formulated a policy to promote inclusive education, but school budgets, incentives for teachers and other aspects have not been arranged accordingly. The policy should come with an action plan and actual implementation." A physically disabled female journalist shared her experience of graduating from a regular high school through the understanding and support of her classmates and teachers, even without an inclusive education system.
Kameyama said "The seminar was a good opportunity to raise awareness of inclusive education and JICA's commitments. There are almost no opportunities for teachers engaged in the education of children with disabilities in Mongolia to exchange information or train together, but the teachers that participated in the seminar began discussing things, and it gave them the chance to network."
Kuroda and Kameyama also conducted follow-up interviews to confirm the survey results. The final results of the study targeting Mongolia, Cambodia and Nepal are scheduled to be compiled in papers.
*UNESCO, 2009.
| | |
| --- | --- |
| Day | October 06, 2015(Tue) |
| Place | Ulaanbaatar, Mongolia |