Many recognize that GDP cannot represent the level of wellbeing of people. Then, what is an appropriate indicator for policy decisions reflecting economic conditions and social development? The Organisation for Economic Co-operation and Development (OECD) held a high-level expert group meeting on "Measurement of Well-Being and Development in Africa" in Durban, South Africa, November 12 to 14, 2015. It was jointly hosted by the Government of South Africa, the Initiative for Policy Dialogue at Columbia University (IPD) and others, and JICA also supported the event. In the opening session, Ichiro Tambo, Director of the JICA Research Institute, presented his perspective for considering indicators.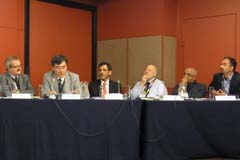 JICA-RI Director Ichiro Tambo
(second from left)
and IPD Co-President Joseph Stiglitz
(fourth from left)
Director Tambo's presentation was on the theme of "Quality of Growth - a view from development cooperation agency." He began by talking about an experience that led to him thinking about what happiness is. It was about an Ethiopian engineer who had come for training in Japan. While the other trainees bought electrical appliances such as radios and televisions to take home to their families and friends, he did not buy anything. When asked why, he answered, "In my country, people without livestock, land and a big house are considered to be poor." He didn't perceive Ethiopia or himself to be poor, and viewed life in Japan with skepticism.
Director Tambo emphasized the importance of having a perspective of happiness that assumes different countries and people have different views of what happiness is, and showed his expectation for a meaningful discussion in the meeting.
Based on this, Director Tambo explained that although many improvements in the Millennium Development Goals (MDGs) and great achievements in poverty reduction have been witnessed in Africa, new issues have emerged, such as extreme terrorism, the disparity between the rich and the poor, and the disparity between urban and rural areas. He also said it is necessary to have a strategy focused on people and society to address these issues, and that happiness, which had been neglected for long time, should be taken into account in measuring wellbeing and development.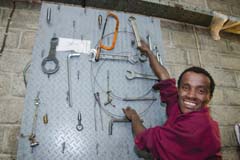 A Kaizen practice in Ethiopia
(Photo: JICA/Kenshiro Imamura)
He introduced JICA's efforts aimed at reducing poverty in Africa, such as the Coalition for African Rice Development (CARD) initiative and Kaizen initiative (quality and productivity improvement at enterprises). On the topic of "quality growth" he said that Japan is ready to support with lessons learnt from its own development experiences, such as environmental pollution. He mentioned that Japan has been assisting Africa through the Tokyo International Conference on African Development (TICAD) since 1993, and that TICAD VI, to be held in Kenya in 2016, will be the first time for the conference to be held in Africa.
He said, "The outcome of this meeting on indicators focused on society and people will greatly contribute to the discussion among African leaders at TICAD VI in Kenya next year."
Tambo also touched upon research collaboration between JICA-RI and IPD on governance, industrialization and economic policies of African countries, and made specific and strategic proposals for economic reform since 2008. He expressed his intention to launch a new research project on the main topic of "Quality of Growth in Africa" in the future.
South African Minister of Economic Development Ebrahim Patel, the meeting's host, Nobel Laureate and IPD Co-President Joseph Stiglitz, among others, took the stage in the opening session. Professor Stiglitz gave a presentation on the theme of "Why Measurement Matters." He pointed out "What is measured indicates what is important for society, and this is also related to political aspects. Inaccurate indicators may lead to incorrect decisions."
Following the opening session, more discussions were held, with the view of creating new indicators, on Unemployment and Informality, Improving National Accounts in Africa, Income and Wealth Inequality, Multidimensional Deprivation, Gender Dimensions, SDGs, Dashboards and Indexes.
| | |
| --- | --- |
| Day | November 12, 2015(Thu) - November 14, 2015(Sat) |