Myanmar finally held a democratic general election in November 2015. A book entitled "The Myanmar Economy-Its Past, Present and Prospects" was released by Springer in the midst of emerging interests in the developments of the country. It includes Myanmar's social and historical background in an analysis of the country's economy based on research by the JICA Research Institute and others.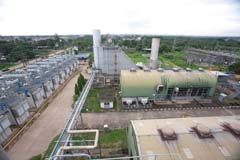 Thaketa gas turbine power station
was built with cooperation from Japan
(Photo: JICA/Shinichi Kuno)
Myanmar's economy remained stagnant for a great many years. However, because the country is rich in natural and human resources, the expectations of foreign investors, overseas firms and international cooperation agencies, among others, rose with the progress of democratization. Now many speak of its potential as "Asia's last frontier."
On the other hand, the country has many challenges to overcome. The formulation of a feasible, strategic development plan and promotion of a growth process on its basis are required. For these reasons, too, needed are accurate information and comprehensive analysis considering Myanmar's social and historical background to prepare a roadmap for development.
Japan has long been assisting Myanmar. As part of such cooperation, JICA implemented the "Myanmar-Japan Cooperation Programme for Structural Adjustment of the Myanmar Economy" between 2000 and 2003. The joint research and survey project involved Japanese experts and high government officials of Myanmar. JICA-RI followed-up with implementation of the research project "Issues and Challenges for Economic Development in Myanmar" between 2008 and 2010.
Konosuke Odaka, professor emeritus of Hitotsubashi University and Hosei University and editor of "The Myanmar Economy-Its Past, Present and Prospects," served as the head of these joint research and survey projects. The book also includes recent developments and new knowledge to update the outcome of the research projects.
The book reviews the developments of recent years and past literature related to Myanmar's economic policies since it became an independent republic. On that basis, it presents findings of empirical research concerning five key fields related to Myanmar's economic development-macro-economic / financial development, physical social capital, agrarian development, indigenous modern manufacturers and economic relations with China. Odaka says in the Preface that the five empirical studies lay out "the essential ingredients for drawing a roadmap."
In the Foreword, Akihiko Tanaka, former President of JICA, wrote, "I am sure that this book will be useful to the leaders and people of Myanmar as well as to those who are supporting them."