Researchers, policymakers, and experts from more than 15 countries met in Tokyo on Nov. 19-20, 2015, to discuss new approaches to address the market failures and barriers that affect small and medium-sized enterprises (SMEs) in the developing Asian countries. JICA-RI Deputy Director Naohiro Kitano made the opening remarks, and JICA-RI Senior Advisor Akio Hosono gave a presentation on the linkage between SMEs and the quality of growth.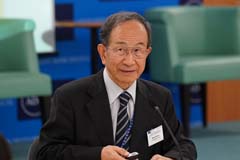 Akio Hosono, JICA-RI senior
research advisor
The event entitled "Workshop on SMEs in Developing Asia: New Approaches to Overcoming Market Failures" was convened by the Asian Development Bank Institute, the Credit Risk Database Association, the Small and Medium Enterprise Agency of Japan's Ministry of Economy, Trade and Industry, and the Japan International Cooperation Agency.
SMEs are assumed to constitute over 95% of all business units and approximately 50% to 80% of employment in most Asian economies. Their economic contribution has led to the development of various policies aimed at supporting SMEs; however, such policies do not necessarily weigh in SMEs' favor but may hinder their self-sustained operations by creating a dependence on public funding.
In his opening remarks, Kitano introduced some of JICA's cooperation projects for supporting SMEs in developing countries, including the Japanese ODA two-step loans for Myanmar's SMEs and technical cooperation for Enhancing Regional Integrated SME Promotion Mechanism in Thailand.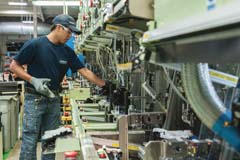 An automobile parts factory in Mexico
(Photo: JICA/Kenshiro Imamura)
In session 1, "Importance of SMEs for Asian Economies," Hosono gave a presentation entitled "Impact of SME policy on the quality of growth: The Cases of Thailand and Mexico."
Hosono began by highlighting the fundamental role of SMEs in creating both opportunities and a "capacity nexus." He stated that it is hard for even highly skilled people to take advantages of new opportunities. Furthermore, he stated that "They need to start enterprises to participate in opportunities or to be employed by large or SMEs to enjoy the benefits of such opportunities."
Hosono explained the impact of SME policies on the quality of growth in reference to the supporting industries for automobiles in Thailand and Mexico. JICA has provided timely cooperation to these industries in a stepwise manner, which has suited the industries' needs in each of their development stages.
Hosono added, "A comprehensive approach is needed to facilitate SMEs' integration into regional and international markets and supply chains."
In session 6, "Banking, Investment, and Other Issues," JICA Senior Advisor Ueda Takafumi gave a presentation entitled "SME development support: A view from an aid practitioner." He discussed the importance of industrial cluster formation as well as the technological and managerial knowledge necessary for SMEs to be innovative.
| | |
| --- | --- |
| Day | November 19, 2015(Thu) - November 20, 2015(Fri) |
| Place | Tokyo |