Providing a second chance for education to "a lost generation" - a generation of people who were deprived of educational opportunities because of violent conflict and have grown older than school age without education - is important from several viewpoints - the fundamental human rights and human security of each individual, and reconstruction and peace-building of war-torn societies. However, how to address the issue of lost education has received less attention both in research and practice.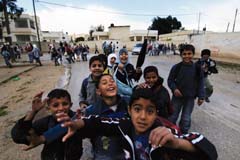 To shed light on this neglected issue and explore concrete ways for the practice of international educational development in conflict-affected societies to help people access to a second chance at education, the JICA Research Institute began the research project " Obtaining a Second Chance: Education During and After Conflict" in November 2015. For the purpose of building a common understanding of the overall research framework and sharing preliminary research plans for individual case studies, a first workshop of authors was held at the JICA Ichigaya Building in Tokyo on Jan. 18, 2016.

"Achieving universal primary education" was one of the important goals in the United Nations' Millennium Development Goals (MDGs), the target year for which was set for 2015. Many areas that were unable to achieve this goal are in conflict. Conflict deprives many children of opportunities for education, and as contemporary conflicts tend to last for years, or sometimes for decades, many conflict-affected countries come to face emerging generations of people, generally young adults, who have grown older than school age without an education. Education is one of the fundamental human rights and therefore its protection holds an intrinsic value in itself. In addition, it also functions as an "enabling right" of other fundamental rights of individuals. Furthermore, having youth and adults of a lost generation regain access to education could also have significant implications for peace-building in war-torn societies, since those generations of people can play a key role in war-torn societies either as bearers of peaceful transition and reconstruction or as a major source of violence by being recruited as combatants.

This research will take up several case studies of conflict, from Africa, Asia, Europe, the Middle East and elsewhere, and conduct life story interviews with people who once lost educational access because of violent conflict but afterward obtained a second chance. It will then analyze the processes and conditions that made it possible for those people to reach a second chance at education. It will also analyze the types of education they actually received and the motivations that drove them to pursue those education.

The researchers participating in the research are JICA-RI Research Fellow Sachiko Goto Kamidohzono, Sophia University Professor Taro Komatsu, Hiroshima University Professor Mari Katayanagi, Coventry University senior lecturers Miho Taka and Marion Maclellan, and Doshisha University Assistant Professor Iyas Salim. Members of JICA's Human Development Department also are involved.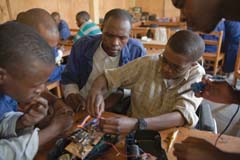 "In post-conflict situations, assistance for maintaining and/or recovering livelihood take priority, and education tends to be forgotten. We are hopeful that the results of this research will help improve such situations," said Ichiro Tambo, director of the JICA Research Institute, in his welcome remarks.

Researchers gave presentations on their plans for individual case studies, including the context of the conflict, how it influenced educational access and the criteria for selecting life story interviewees.

In her presentation, Taka talked about Rwanda. She explained the context of the conflict where a large number of refugees poured into multiple neighboring countries, and said she would try as much as possible to cover different experiences of various refugees in different host countries. She also mentioned that differences in other individual situations, such as orphans, genocide survivors and people with disabilities, will be paid attention as well when conducting her interviews.

Maclellan gave a presentation about Uganda. She explained her plan to focus on those who have experiences of having been abducted as child soldiers or wives for soldiers as one of the main targets of her research, given the severe problem of abduction during the conflict.

Komatsu plans to conduct research on Timor-Leste for his case study. A change in the language of instruction, from Indonesian before independence to Portuguese after, was one of the major reasons that many people have been left out of education, he said.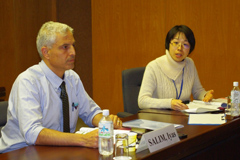 Katayanagi talked about Bosnia and Herzegovina in Europe. She said the preliminary information she had collected so far implies that the scale of lost education during conflict was not so widespread in the whole society, and because of that those who missed out education may have been especially marginalized in the society.

Kamidohzono and Salim plan to jointly write about the case of Palestine, in the Middle East, where violent conflict has been ongoing under military occupation. Kamidohzono explained that educational opportunities have repeatedly been interrupted over the course of protracted conflict there for nearly 70 years.

"Focusing in particular on the two intifadas [the Palestinian uprisings for resistance against Israeli military occupation], during which large-scale and organized lost education seemed to have occurred, we will select interviewees with due attention to achieving a balance of places of residence, gender and other factors," she said.

In the debate on the conceptual framework of the research, it was reaffirmed that second-chance education is significant especially in conflict-affected societies from the following two perspectives. First, education has an intrinsic value in itself as it is a fundamental human right and deeply involved in the dignity and self-esteem of the people living in conflict, where lives, livelihoods and hope for the future are threatened. Second, it could contribute to conflict prevention and transformation, by securing equality of opportunities, including employment and promoting people's positive engagement in society.

The field research will be carried out through the end of 2016, and the results of the research will be organized into papers by around autumn 2017.