Kenneth King, professor emeritus of the University of Edinburgh, addressed a seminar on the issue of refugees and education with researchers on March 2, 2016, as JICA-RI Visiting Fellow at the JICA Ichigaya Building in Tokyo.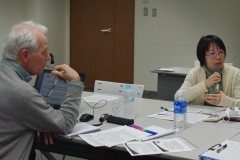 The seminar was jointly held by JICA-RI and NORRAG, the Network for International Policies and Cooperation in Education and Training, based in Switzerland. The purpose of the seminar was to explore a wide range of educational challenges faced by refugees and the rapid growing concerns in today's world. Professor King, who serves as the NORRAG News Editor, led discussions and JICA-RI Research Fellow Sachiko Goto Kamidozono explained a newly launched research project at JICA-RI, "Obtaining a Second Chance: Education During and After Conflict."


Pointing out the lack of attention given to the significance of education for youths and adults who become older than school age without educational opportunities owing to conflicts, especially those involving refugees, Kamidohzono explained that the research will explore how to overcome such a situation of "lost education" by collecting the life stories of people who missed out on education owing to conflicts but who later got a second chance to continue their education. She said that the research will focus on five conflict-affected countries, namely, Timor-Leste, Rwanda, Uganda, Bosnia and Herzegovina, and Palestine.

King said that refugees in second-chance schooling are not likely to compete very well in the admissions process for top universities, so second chance may translate into second-rate access.

"The budget for support of refugees in schools could come out of humanitarian aid in education in emergency. Within the humanitarian envelope, education is a quite small percentage," he added.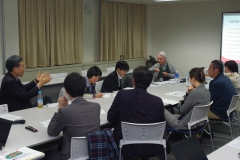 Referring to access to quality education and decent work for all as stated in the Sustainable Development Goals, King said, "Those are directly threatened by attitudes toward refugees, and in many countries refugees are not allowed to work, so end up only working in the informal sector of the economy."

He noted that refugee issues raise concerns with identity as well as politics.

JICA-RI Director Ichiro Tambo said that while refugee camps or IDP (internally displaced persons) camps receive generous aid, their host community is often almost forgotten and sometimes life in the camps compares favorably to that of the local people, creating an unexpected conflict between the two groups.

Commenting on education for refugees, a participant said that we should be clear about the place we want to examine-whether it is a conflict country (or area), host country, a first asylum country in the neighboring countries, or a third country accepting refugees from a host country-and only then can we discuss what kind of education is needed.

In the face of the deepening refugee crisis in Europe and the Middle East, King said that the next NORRAG News, to be released in April, will be entirely dedicated to global issues relating to refugees and education.