On May 23, 2016, JICA Research Institute (JICA-RI) hosted a seminar celebrating the publication of "Japan's Development Assistance: Foreign Aid and the Post-2015 Agenda," published by Palgrave Macmillan in November 2015. The seminar was held at JICA Ichigaya Building, featuring Richard Manning, former Chair of the Development Assistance Committee (DAC) of the Organisation for Economic Co-operation and Development (OECD), Senior Researcher of Oxford University and also the board chair of International Initiative for Impact Evaluation (3ie). The book's authors and attending researchers discussed characteristics of Japan's foreign aid.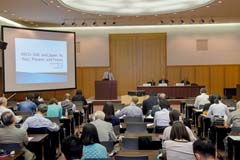 The book aims to review the 60-year history of Japan's ODA and examine Japan's future role in international cooperation based on JICA-RI's findings. It was edited by JICA Vice President (former-JICA-RI Director) Hiroshi Kato, Senior Fellow of the Brookings Institution John Page and Professor Emeritus of Hosei University Yasutami Shimomura. Manning contributed a chapter to the book and wrote about the relationship between Japan and the OECD-DAC.

JICA Director Naohiro Kitano opened the seminar by saying, "What are Japan's strengths? What is necessary for "quality growth"? How should we differentiate from China and Korea's approach and how will the development assistance regime, including OECD-DAC, change? I expect this book to initiate further discussion to answer these questions in a variety of directions."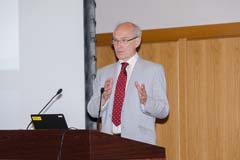 JICA Vice President Kato then introduced an overview of the book and said, "We are seeing diversification of international assistance in recent years, and new donors are emerging. There is much point in reviewing, conceptualizing and verbalizing Japan's aid in order to provide a guide to various players."

In his keynote speech, Manning said Japan has maintained an Asian Japanese approach while Japan is being integrated into a Western donor system. He said that the Japanese approach included strong focus on "self-help" efforts, preferred loans over grant, projects over programs, economic infrastructures over social services, low levels of conditionality, a close relationship with Japan's private sector and a strong geographical focus on Asia. He commented that Japan's approach sometimes clouded its relationship with other DAC members.

Manning explained how Japan's aid, initiated after the war, changed throughout the years from the 1960s to the 1990s. He commended Japan for taking a leading role in policy discussions in some area, such as untying in the 1970s, in developing international development goals in the 1980s and triangular cooperation in the last several decades. On the other hand, he said, "Japan too often found itself in a defensive posture when both sides might have been more creative."

Manning listed the strengths of Japan's assistance model, such as promotion of "self-help" efforts, Japan's unique lesson learned from its own development, reasonable balance between multinational and bilateral aid, strong technical expertise and bilateral delivery system through JICA. On the other hand, he pointed out some challenges. "Japan has struggled to make a consistent case domestically for international cooperation in a very tight fiscal situation." He also noted the need to enhance public understanding and the need to think about stronger evidence-based narratives about what continues to make Japan's approach distinctive, and about what needs to be done to improve effectiveness further, particularly to realize quality growth.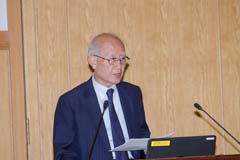 Professor Emeritus Shimomura said Manning's keynote speech was "full of various policy implications for the future course of Japan's development cooperation." He said it is important for Japan and other DAC countries to build a fruitful relationship and explore new approaches with a solid understanding of Manning's proposals.

The speeches were followed by a question and answer session, where the discussion turned to the differences between Japan, Korea, China and European donors and how Japan can adapt its model to countries under weak institutional circumstances. Manning answered, "African countries have smaller economies compared to Southeast Asian countries. We should focus on what can be done at both the national level and the regional level," and, "Japanese companies have strong ties in Southeast Asia but not so much in Africa. It will be important how the government encourages companies to invest in Africa." Manning's response expressed his high expectations in Japan and its continual contribution to international assistance.