The annual meeting of the Comparative International Educational Society (CIES) took place in Vancouver, Canada from March 6 to 10, 2016. Research Fellow Yuriko Kameyama and Visiting Fellow Kazuo Kuroda (a professor at the Graduate School of Asia Pacific Studies, Waseda University) from the JICA Research Institute also took part, presenting results of surveys of teachers and parents/guardians concerning inclusive education in Mongolia, Cambodia and Nepal.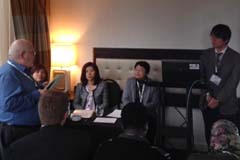 Inclusive education is a process that involves the transformation of schools and other centers of learning to cater to all children - including boys and girls, students from ethnic and linguistic minorities, rural populations, those affected by HIV and AIDS, and those with disabilities and difficulties in learning - and to provide learning opportunities for all youth and adults as well.(*) In the research, the form of education, in which disabled and non-disabled children study together in the same classroom was specifically investigated.

Kameyama and Kuroda took to the podium at a group session held on March 7. First, Kuroda gave an overview of the "Disabilities and Education" research project begun in 2014 based on the JICA's stated goal of achieving "inclusive development." His talk examined the background to the project and the research methods it employs.

Then, Kameyama presented the results of their analysis of responses to the attitudinal survey of teachers and parents/guardians, in her presentation entitled, "Barriers for Better Education for Children with Disabilities; a case study in Mongolia." She reported that at both regular schools and special schools for children with disabilities, there is a strong feeling among both teachers and parents/guardians that inadequate facilities and equipment and a lack of money, including insufficient funding and low salaries and allowances, constituted barriers.

Kameyama gave a statistical analysis based on estimates of the types of barriers surveyed: "substance (equipment and money)," "understanding (concerning the education of children with disabilities)" and "training for teachers." As a result, she found the "understanding" factor had a significant impact, with teachers at ordinary schools feeling strongly that understanding of education for children with disabilities constituted a barrier. She also said that to promote policies for inclusive education, it will be necessary to adopt a comprehensive approach that not only addresses the shortage of equipment and lack of training for teachers, but also strengthens cooperation between teachers and parents/guardians and other teachers.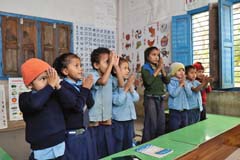 Diana Kartika, a member of this research project and a Ph.D. student at Waseda University, gave a presentation entitled, "The Impact of Training and Experience on Teachers' Attitudes towards Inclusion in Cambodia". Based on the results of a quantitative and qualitative analysis, Kartika found that teachers with experience of teaching children with disabilities, regardless of the degree of those disabilities, felt strongly that inclusive education was a good idea. She also reported that no significant relationship was seen between training for teachers and enthusiasm for inclusive education in her quantitative analysis.

Miki Sugimura, a professor from the Faculty of Human Sciences at Sophia University reported her findings from a qualitative survey she conducted in Nepal. She studied model schools, schools for the deaf, and children with disabilities who did not attend school at all. Analyzing differences in perceptions of school types among parents/guardians, school principals and teachers, she found that the case of Nepal suggested that inclusive education is not only solution, and an educational approach based on the partial utilization of schools for children with disabilities could lead to happiness. She also pointed out that it can be difficult to make inclusive education a success unless societies are inclusive.

During the discussion that followed the presentations, one of the participants praised this research, pointing out the value of the survey covering more than 1,700 people in two countries, when data on the education of children with disabilities in developing countries had been very limited.

In response to a question concerning factors that had an impact in the attitudinal survey in Mongolia, Kameyama said she would begin with a basic analysis, and in the future would conduct research encompassing factors such as cause-effect relationships, utilizing an ample array of valuable data collected by the survey.

This annual meeting attracted a total of more than 2,700 participants from around 100 countries. The participants included development practitioners of international and bilateral organizations such as UNESCO, UNICEF, USAID, and international NGOs such as Save the Children. They also included researchers from universities and research institutes such as the Brookings Institution. At the meeting, many of presentations concerned the fourth goal of the sustainable development goals (SDGs) adopted in September 2015, "quality education," and sessions debating the indicators used for it also took place.

* UNESCO, 2009.