Emerging Asian donors such as China, India, Korea and Malaysia have distinctive features in philosophy and institution, free from the traditional framework of OECD-DAC member countries, and their approaches and targets of aid programs are taking diverse paths. Educational cooperation also reflects respective donors' (including Japan) value and education system, which stresses human resources development.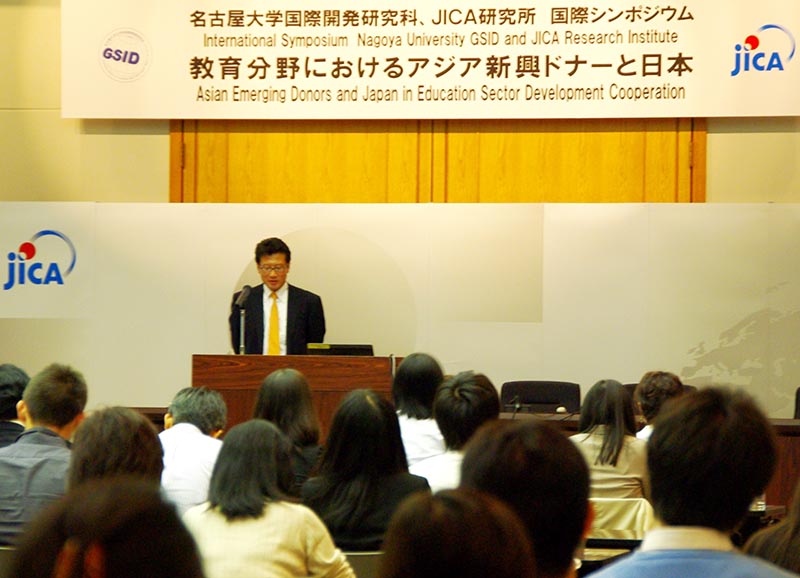 Dr. Fujikawa
In light of this Asian tradition, JICA-RI and Graduate School of International Development (GSID) at Nagoya University jointly organized an international symposium with the theme of "Asian Emerging Donors and Japan in Education Sector Development Cooperation: Exploring Asian Uniqueness and Diversity" on October 25. This event aimed to compare educational assistance among Asian donors and to identify differences as well as common traits. The symposium brought together researchers from Asian donor countries: Korea, India, Malaysia, and Hong Kong.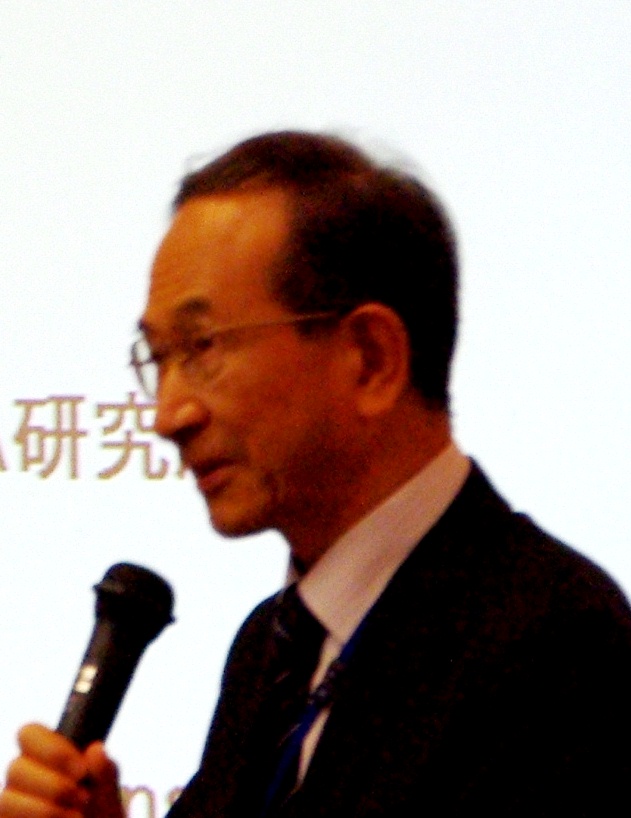 Director Hosono
In his opening remarks, Dr. Kiyoshi Fujikawa, Dean of GSID of Nagoya University, mentioned that Japan's development aid had established original development studies, incorporating traditional European and US models into them, with focus on the development of human resources and networks. He also stated: "I hope this symposium will foster a mutual understanding between Japan and Asian emerging donors as key players in Asia region."
JICA Research Institute Director Akio Hosono also pointed out in his remarks that among emerging donors that JICA-RI has researched on, those especially in East Asia had been demonstrating their presence. Referring to the High –Level Forum on Aid Effectiveness held in Busan last year, Hosono expressed his views that JICA's accumulated experiences including in the education sector, would serve as a pioneer in South-South and Triangular cooperation to the emerging donors.
At the beginning of the symposium, Associate Professor of Nagoya University Shoko Yamada overviewed the issue and gave a speech entitled, "Changing Education Sector Assistance Environment Surrounding Japan: International Assistance Trends and Asian Donors," where she pointed out Japan's aid to "Self-help efforts" as the Japanese model of comparative advantage.
In the first session of the symposium, four guest speakers gave presentations on their respective countries' educational assistance efforts.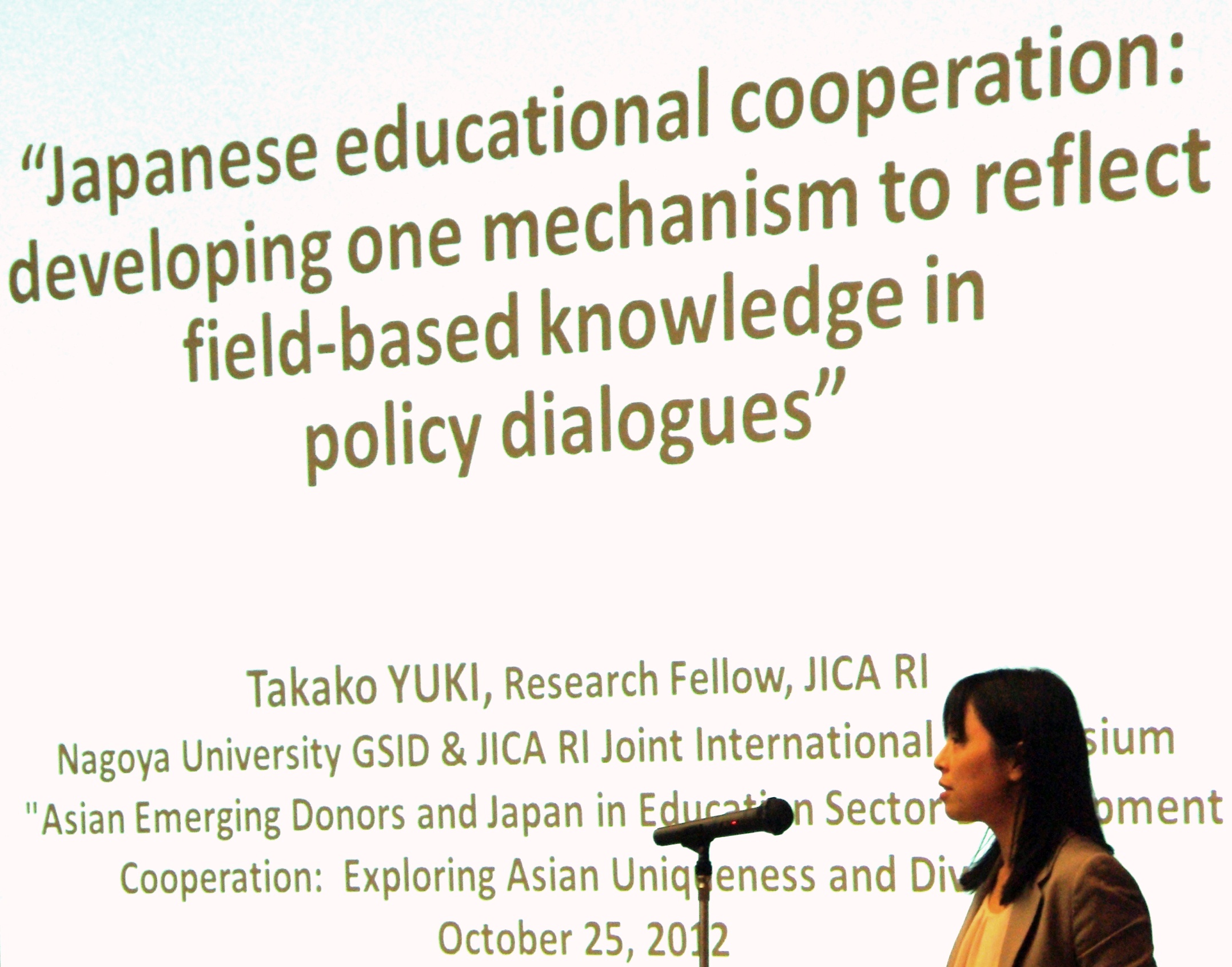 Yuki Research Fellow
JICA-RI Research Fellow Takako Yuki gave the first presentation with a theme of "Challenges to the Development of Mechanism to Utilize Field-Based Knowledge." Explaining characteristics of Japanese ODA (Official Development Assistance) in education, she introduced a research project, named "SABER: System Approach for Better Education Results: A Focus on School Management Systems" that the World Bank and JICA have been jointly working on.
Professor of Seoul National University Chung Bong Gun spoke of a Korean ODA model that stressed knowledge sharing. As an ODA policy for education, he introduced a strategy that contributes to the provision of educational opportunities as well as economic growth that develops knowledge, technologies, and R&D.
From India, Professor of National University of Educational Planning and Administration Tilak Jandhyala B.G. mentioned that India was not an OECD-DAC member or didn't have any organization equivalent to JICA. He, however, introduced ITEC (Indian Technical Economic Cooperation), an organization that places an emphasis on the training civilian personnel, provision of experts and others, as a major aid channel centering on South-South cooperation.
Lastly, Associate Professor of National Defense University of Malaysia Ahmad Abdul Razak gave a presentation on aid strategy to enhance Malaysia's international visibility, focusing on "Smart aid," a higher education policy in the international context.
In his conclusions of the first session, Discussant and Professor of Hong Kong Institute of Education Mok Ka Ho first summarized respective cases from the four countries. He then highlighted, as a future aid direction including in the field of education, the importance of building up the policies responsive to diversity beyond Asia region and of collaboration with sharing errors and experiences instead of imitating others' policies.
In the latter session of the symposium, a panel discussion took place with a theme of "Prospect for Asian Model of Educational Cooperation: Beyond differences" among the above-mentioned five speakers. They confirmed that while it was important for each country to share her good experiences and ideas with others, donors should not impose those experiences and ideas on recipients; and that it was crucial to provide an appropriate assistance to beneficiary countries in accordance with their priorities.
During the final question-and-answer session, the participants' questions concentrated on "Asian-ness:" whether assistance from Asian donors is positioned just as a complement to that from Western nations; how Asian donors' assistance differs from that of European and US models. In response to these questions, the panelists emphasized the importance of appropriate assistance extended to people in need, regardless of "the Asian model in educational assistance" or the boundaries such as EU, the U.S., and Asia.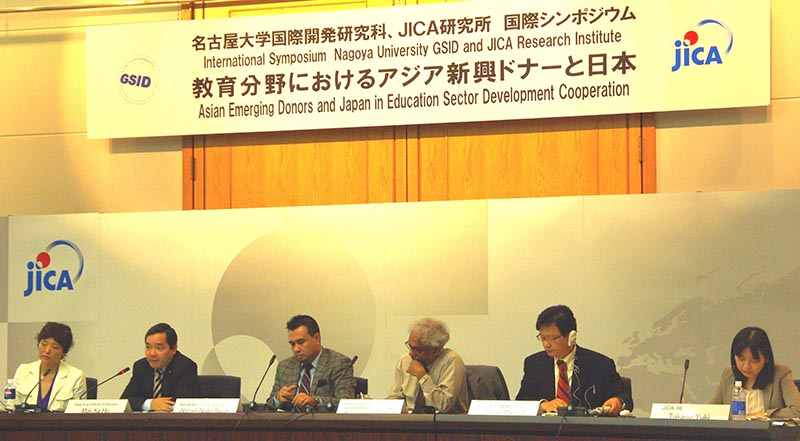 From the left, Shoko Yamada, Mok Ka Ho, Ahmad Abdul Razak
Tilak Jandhyala B.G., Chung Bong Gun, Takako Yuki
| | |
| --- | --- |
| Day | October 25, 2012(Thu) |
| Place | JICA-RI, Tokyo |