JICA Vice President Hiroshi Kato took a lead at a debate on "Beyond Growth: Achieving Sustainability" at the Emerging Markets Forum (EMF). The EMF is an organization in which high-level leaders discuss issues facing emerging markets and the rest of the world. The event took place in Paris France on April 11-12, 2016, to celebrate the publication of a book, "The World in 2050: Striving for a Just, Prosperous and Harmonious Global Community." The event brought together a group of experts and leaders from the fields of politics, academia and private sectors.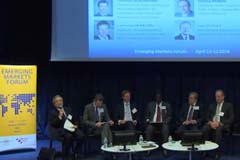 The JICA Research Institute cooperated in the production of the book and was one of the entities that organized the Emerging Markets Global Forum 2015, which took place ahead of this event in Tokyo in November 2015.

The book is aimed at suggesting policies and strategies that governments and companies should adopt to shape the world economy, by presenting predictions concerning long-term economic growth until 2050. The book shows 10 mega trends (see Note) that will shape the world economy, and discusses measures for responding to these trends based on the latest research and international debate. At this event, the participants discussed the importance of improving financial governance from a global perspective, the role the IMF should play in that, and how to go beyond economic growth to eliminate social inequalities and enhance the well-being of people.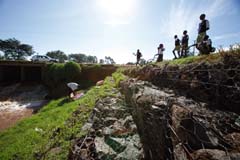 At the session chaired by Kato, the panelists discussed about what should be done to build a sustainable society, based on the the background paper written by Cameron Hepburn of the University of Oxford. The paper deals with ways of mitigating and adapting to climate change. Raila Odinga, a former prime minister of Kenya, Dmitry Pankin of the Eurasian Development Bank, Ingo Ploger of the Latin American Chamber of Commerce, and Thomas Silberhorn, a federal legislator from Germany, all took to the stage and participated in the active debate.


Note: The 10 megatrends are as follows: 1. Population trends, 2. Urbanization, 3. International trade, 4. Financial globalization, 5. Transformation of the global economy, 6. Growth of the middle class, 7. Natural resources, 8. Technological breakthroughs, 9. Climate change, and 10. Innovation in communications technology.