Chile supplies one-third of worldwide salmon production, second to Norway. How did Chile, where the fish is non-native, transform itself into a top salmon exporter in the global market?

The book "Chile's Salmon Industry: Policy Challenges in Managing Public Goods," published by Springer Japan in May 2016, answers this question.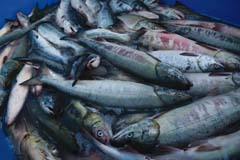 Akio Hosono, JICA-RI senior research advisor, edited the book, together with Michiko Iizuka, research fellow at the United Nations University, Maastricht Economic and Social Research and Training Center for Innovation and Technology (UNU-MERIT), and Jorge Katz, professor at the University of Chile.

This book illustrates the development of Chile's salmon industry, which was non-existent but created over the course of 20 years beginning in the 1970s. With a historical and holistic approach, the book discusses this with a focus on four areas: knowledge development, environmental sustainability, institutional development and social inclusion (social welfare).

The book studies the "Japan-Chile Salmon Project," in which JICA played a catalytic role. The project greatly contributed to creating a knowledge base by technological transfer. The contribution brought about dramatic economic growth and significantly increased jobs in a direct and indirect manner in southern regions of Chile.

Through the lessons learned from the development of Chile's salmon industry, the book aims to address the issues and challenges that developing countries are likely to face in their natural resource-based industries. It does so by focusing on policy intervention in managing public goods optimally to achieve successful and sustainable economic development.